On February 11th, release 4.6 will introduce a wealth of new features to the Staffbase platform that will help strengthen internal communications at your organization. Employees, content creators, and administrators alike will all have something exciting to look forward to this release!
Search Improvements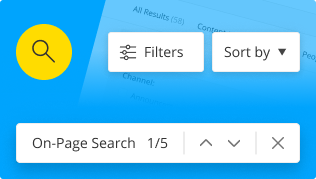 Content discovery just got easier: Users can now sort by newest or most relevant results, or filter by author or channel. This makes finding content easier than ever. Last but not least, after activation by your Customer Success Manager, the beta version of our on-page search will help users find their search term quickly, even on content-rich pages.
Pages Overview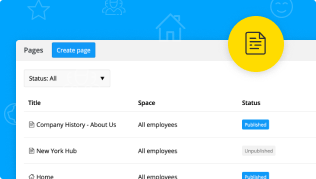 Managing lots of pages can be challenging, but we've got your back. From now on, you can find everything you need to know about a page at a glance in the pages overview, including title, space, and published status. On top of that, with the new sorting options for our pages overview, you can filter specifically for published or unpublished pages, and sort by title, status, creation date, and last update.
Editing Chat Messages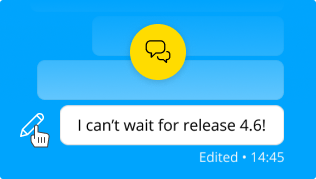 We've all pressed send too soon, just before catching that one typo. But now with our new message editing feature in Chat, your users can edit those overlooked typos and make sure their messages are always polished and accurate. Just head to the Studio and enable the Message Editing toggle to get started!
Embedded Pages Widget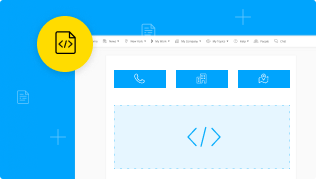 Now, with the new Embedded Pages widget, external pages and content can be added not only as standalone entries to the menu structure, but also placed alongside other content on a page. Empower your editors to pack relevant content together and help your users find all the relevant information on a given topic on a single page.
Group Subscription Widget
The Group Subscription widget lets your employees subscribe to open groups with the click of a button. Employees can sometimes get lost when scanning the long list of groups available in the group chooser. Place this widget on departmental, location, or interest group home pages and start engaging your users. You can also use this widget to make it easier for users to begin a journey, subscribe to topics, and more!
Quick Pulse Survey Plugin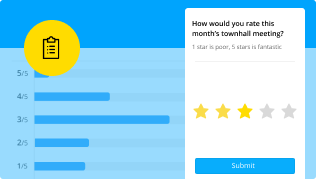 Want to know what's on your employees' minds? The Quick Pulse Survey plugin lets you gauge your employees' mood with anonymous, single-question surveys. Schedule recurring surveys to identify developing trends, or publish one-time surveys for a snapshot of the status quo. Complete with analytics, the Quick Pulse Survey plugin brings you valuable insights while increasing employee engagement.
Workday Widgets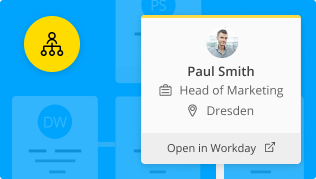 Bring Workday closer to your employee app or intranet with our 2 new widgets. Let users see an overview of their absences from Workday with the Absence widget, or use the Org Chart widget to give users quick access to the org chart. Now, users can check co-workers' profiles to see where they are placed in the organizational structure.
Google Drive Widget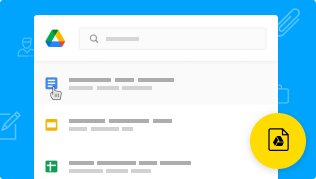 Interconnect your digital workplace with the Google Drive widget. With it, employees can view a personalized list of their most recently viewed files and jump right into their work in Google with just one click. This widget also offers a powerful search function that allows users to search for files in their Google Drive.
Improvements
App
Plugins
Studio
Legal
Included Minor Releases Since 4.5
4.6.1 - January 26, 2021
Improvements
The Quick Pulse Surveys plugin now has a preview function. This means editors can see how their survey will look before publishing it. 
Recurring surveys are now automatically unpublished and removed from the menu in the end-user view after the survey ends. 
In Chat, accessibility improvements have been made for users using screen readers to make the process of archiving and restoring chat conversations, as well creating a group conversation easier.
Bug Fixes
In certain cases, updating email addresses of users via the User API was not possible. This has been fixed.
In the Quick Pulse Survey plugin, surveys were published immediately, even after being scheduled for a later date. This has been fixed.  
In the Quick Pulse Survey plugin, scheduled surveys appeared in the menu in the end-user view before they were published. This has been fixed and surveys are now only available to users once published.
When editing the Accordion widget, sometimes <p> tags displayed in the editing view. This has been fixed.
When configuring the Plugin widget, the Quick Pulse Survey mistakenly displayed as a supported plugin. This has been fixed and the Quick Pulse Survey plugin no longer displays.
On pages,  icons in the icon chooser for widgets did not display correctly in some cases. This has been fixed.
When resending notifications in News, a blank space at the end of the notification text displayed incorrectly. This has been fixed. 
On mobile devices, opening the menu multiple times caused the app to crash in some cases. This has been fixed. 
When using the search field on the search results page, the browser URL was not updated with the new search term. This has been fixed.
4.6.0 - January 5, 2021
Improvements
Starting a one-to-one conversation in the Chat is now easier with our accessibility improvements.
Bug Fixes
Saving a form in the Forms plugin was possible even with required input missing. This applied to the option to include submission content in a notification email that could be saved without providing an email address. Now, an error message is displayed if the email address is missing.
In news posts, using the on-demand translation caused icons inside some widgets to appear broken. This has been fixed.
When editing a user, it was not possible to view or assign internal user groups. This has been fixed.
In some cases, when creating a new user group, switching between user group types led to an error. This has been fixed.
News posts scheduled for a later date were immediately posted. This has been fixed and scheduling now works as expected.
4.5.5 - December 8, 2020
Improvements
In the editors for Pages, News and Journeys you can now easily add alternative descriptions to gallery images in the HTML source code to improve accessibility on your platform.
Integrations using the Chat API or Notifications API can now use the identifier of a user "External ID / Identifier", for example, to send user specific notifications.
Bug Fixes
After commenting on a post when the Interesting Comments notification setting was turned on, users incorrectly received notifications for all comments. Now users receive notifications only for direct replies to their comment.
Removing a video from a post was not possible. It has been fixed.
In some cases, the News Stage and News Feed widgets displayed as empty elements if the content was not set as visible for the user. This has been fixed.
In certain cases, extra spaces were added to usernames or identifiers when creating user accounts via user import or User API. This has been fixed.
When editing a user group, even users who were not allowed to see the group were displayed in the dropdown menu to select users. This has been fixed.
In some cases, the last document in the list of legal documents was difficult to click on. This has been fixed.
In Chat, navigating the participant list of a group conversation using only keyboard navigation did not work. This has now been fixed.
In Chat, muting a conversation also mistakenly marked all unread messages as read. This has been fixed.
In rare cases, additional notifications about comments were sent when setting comments to invisible and back to visible. This is fixed.
When going back to the current version of a page, editors are now asked to confirm the change in new dialog before the version of the page is rolled back. 
4.5.4 - November 24, 2020
Improvements
The design and wording of dialogs to delete content on Pages have been unified for a smoother editing experience.
Minor design and performance improvements have been made to the Event Registration plugin.
Bug Fixes
An icon to add the Animations widget has been added to the editor toolbar for customers using standard News.
Users were not able to sign into Microsoft Teams via SSO from the Staffbase platform. This has been resolved.
The link to the app in the email invitation, which was sent out to new users did not work as expected. This does not happen anymore.
In the search results, content with HTML code was displayed wrong. This has been fixed. 
When a high-resolution image was uploaded to a news post and resized inside the News editor, it resulted in a pixelated image. This has been fixed.
When adding users to an internal group, even users who were already added to the group were displayed in the dropdown menu to select users. This has been fixed.
On Internet Explorer, the button to jump to the bottom of a Chat conversation was missing. This has been fixed.
4.5.3 - November 10, 2020
Improvements
For Pages, News, and Journeys, the content will now automatically be previewed in the language currently being edited. You can now also switch the language of the previewed content directly from the dropdown in the dialog.
Editors can now generate URLs for preview content in a specific language for Pages, News, and Journeys, simplifying the feedback process for language-based reviews. Alternatively, an automatic URL option has been introduced, which, when opened, will automatically show the preview content in each editor's chosen content language.
The Chat now has an improved color scheme to enhance the accessibility of the feature.
Now administrators can change users' primary email address and username to keep their information up-to-date.
Bug Fixes
The user groups view in the Studio was not displayed properly. This has been fixed.
Exporting user data via CSV failed when a user profile field contained special characters. On Chrome and Firefox browsers, the CSV user export download was not possible. User export to CSV works once again as expected.
For standard widgets, deleting text within the widget made the cursor move out of the widget or display the Delete Widget dialog. This no longer happens.
In the search function an error occurred when trying to display further results, causing users to see a blank page instead of further results. This has been fixed.
In Journeys, when editing a Journey step, the Discard Changes dialog was not displayed in some cases before navigating away from a Journey with unsaved changes. This has been
In some cases, line breaks in profile fields led to poorly formatted CSV exports. This has been fixed.
On a page, editing a widget that contains a table, resulted in duplicating the widget. This has been fixed.
4.5.2 - October 28, 2020
Improvements
Administrators can now search for users in the Studio using their sign-in email address.
 It is now possible to assign user groups as Space Administrators, in order to decrease administrative efforts. Previously, it was only possible to add individual users as Space Administrators.
When users with no access to Chat tried to access a chat conversation via URL, a blank page was displayed. With the recent improvement, the page now displays an informative error message.
Bug Fixes
In Chat, users could not start a new conversation in cases where the contributor role for News was disabled across the platform. This has been fixed.
In group chat conversations, buttons for some functionalities, such as leaving and deleting a conversation, did not automatically display if there was more than one administrator assigned. This has been fixed.
Using the search function in the Launchpad resulted in a broken display of the header and the Launchpad. This has been fixed.
In Pages, picture galleries added in a table cell were visible in the user view, but not in the editor view. Galleries now display correctly for all views.
The Accordion widget and the User Profile widget displayed the wrong spacing between the title and the content. The spacing is now consistent with that of other widgets.
On the Internet Explorer browser, the save and preview functions did not work as expected in some cases in News and Pages. This has been fixed.
4.5.1 - October 13, 2020
Improvements
The Advent Calendar has been updated to allow for easy color and text formatting, more space for text descriptions, and a quick preview function. Daily points can now be downloaded as a CSV file, and questions can be updated after their release date. 
It is now possible to target the visibility of content in a space to specific users.
In the Forms plugin, there is now a default placeholder option for dropdown answers prompting users to select an option. When the dropdown is a required field, users need to actively choose an option from the dropdown before they can submit the form.
Nepali is now available as a content language. 
The button to resend a notification is now highlighted and more visible in the News editor view. 
The editor toolbar for Pages, News, and Journeys has new and improved icons. 
Bug Fixes
When opening a page in the editor view, in certain cases the Show page as card status was displayed incorrectly. This has been fixed.
In rare cases, sending legal documents for reconfirmation resulted in incorrect document targeting for users with an administrator role. This has been fixed.
In certain cases, automatic language translation did not happen as expected. This has been fixed.
In the User Profile widget, lengthy position and department names are now abbreviated with an ellipse. This improves the visual layout. 
When a URL was added to a custom profile field, the URL did not open on desktop devices. This is now fixed.
In the Analytics dashboard, updating the time span for a set of metrics resulted in an incorrect graph. This has been fixed.
When deleting text in a Static Content widget, sometimes the widget deletion confirmation dialog was shown incorrectly. This has been fixed.
In Chat, the button to jump to the bottom of the conversation was displayed incorrectly. This has been fixed.