Widgets are like design elements that show particular content on any page or in news. Some widgets show static content, whereas others draw dynamic information, like news. On the Staffbase platform as an author or an editor, you can choose from a bundle of valuable widgets, which are easy to use and help you present content in the best way possible.
Advanced Content Editing Options with Widgets
Define the device: Some content works better on mobile, others make sense for desktop users. With widgets, you define on which device users will see the content of a widget to support the best user experience.
Use one or more widgets together: Pair one or more widgets to present content in a meaningful manner to the users. For example, a button widget in a hero image widget.
Define the layout style: Set the layout style for a widget with or without a card style. A card style presents the widget on a white card with borders.
Using a large number of widgets can have an impact on the loading time of your pages. If you notice an increased loading time when creating a page with many widgets, Staffbase recommends reducing the number of widgets.
Static Content Widget
To add any type of static content, in the same design and visual style as that of other widgets, use the Static Content widget. In this way, the content in the static content also has the same layout style options as the other widgets. You can experiment with background colors of this widget or simply choose the branding color of your app.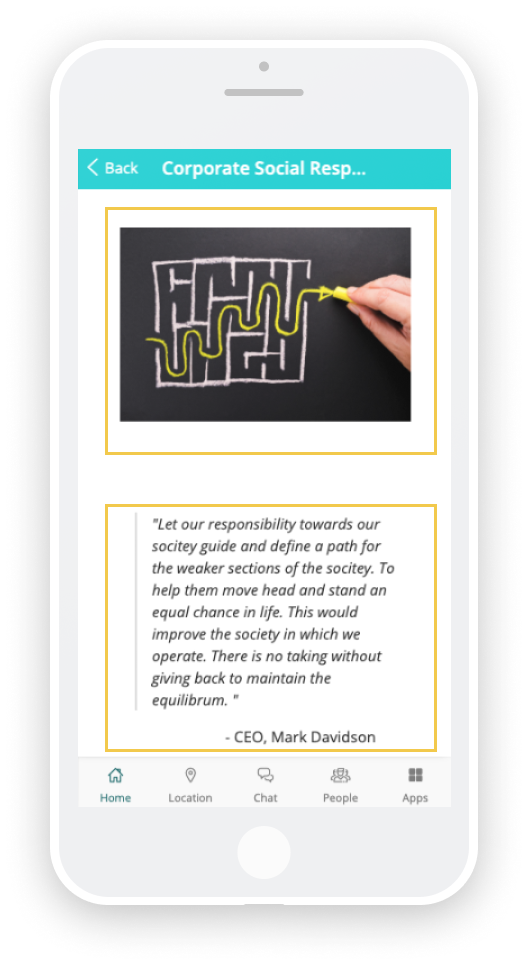 User Profile Widget
To add contact information outside the employee directory, use the User Profile widget. This is useful if you want to show a contact, for example, on the Contact Us page. If the user profile contains details, such as location, department, job title, and so on, those are displayed.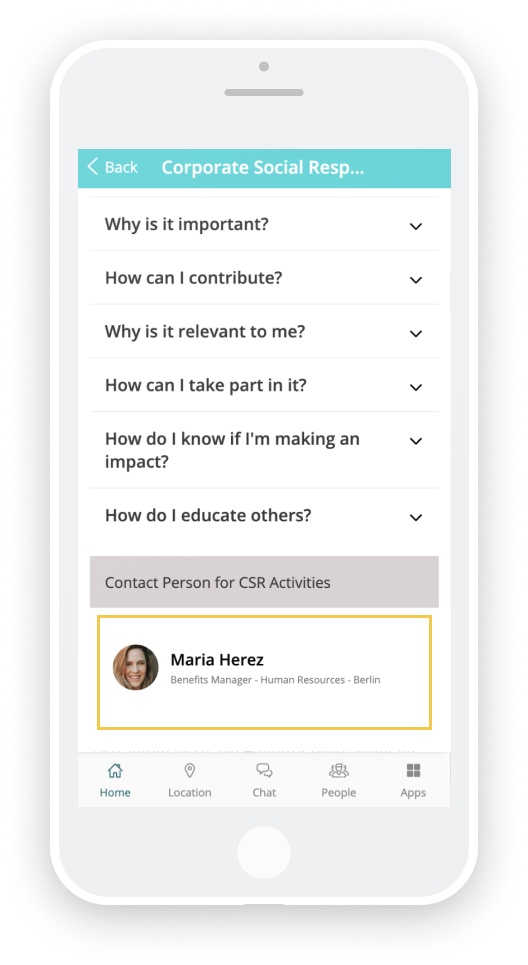 File List Widget
To add a selection of files, use the File List widget. Users can open or download these files. For example, if you have a page on Corporate Social Responsibility, place all related files, such as guidelines, activities planned for the year, and so on, on the file list.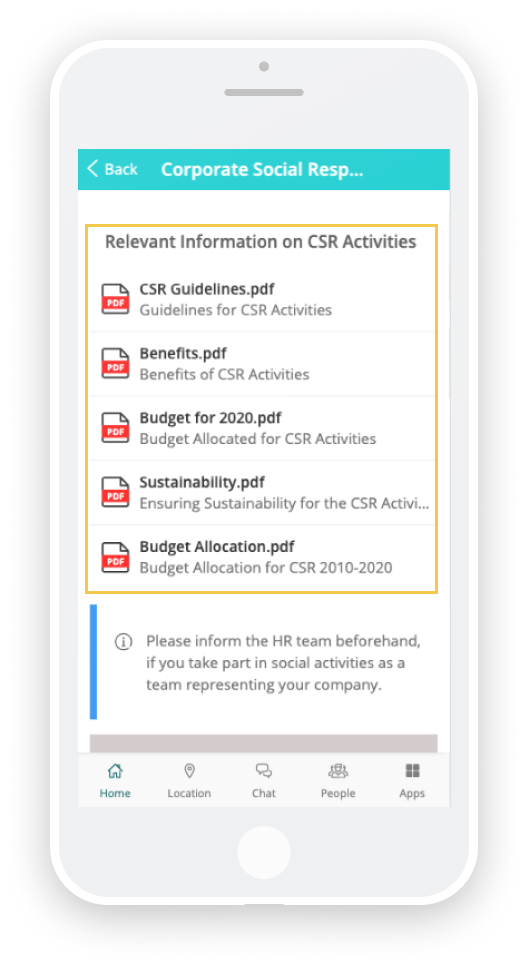 Infobox Widget
To add a box to call attention to particular information, warning, or a tip to your pages, use the Infobox widget. The colored box readily draws users' attention to the content presented in it.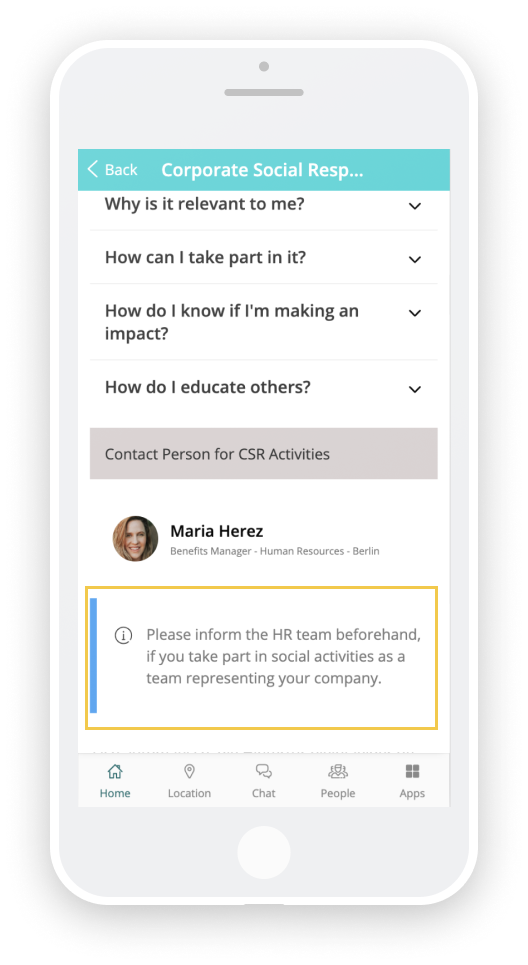 Hero Image Widget
To add a wide image to catch the reader's attention, use the Hero Image widget. You can also add a headline, subheading, or the button widget on the image itself. The widget ensures that the image looks good on both devices, by letting you select the area of the image that needs to be visible on the smaller mobile devices.
The ideal image size for a hero image is 910 x 303 pixels.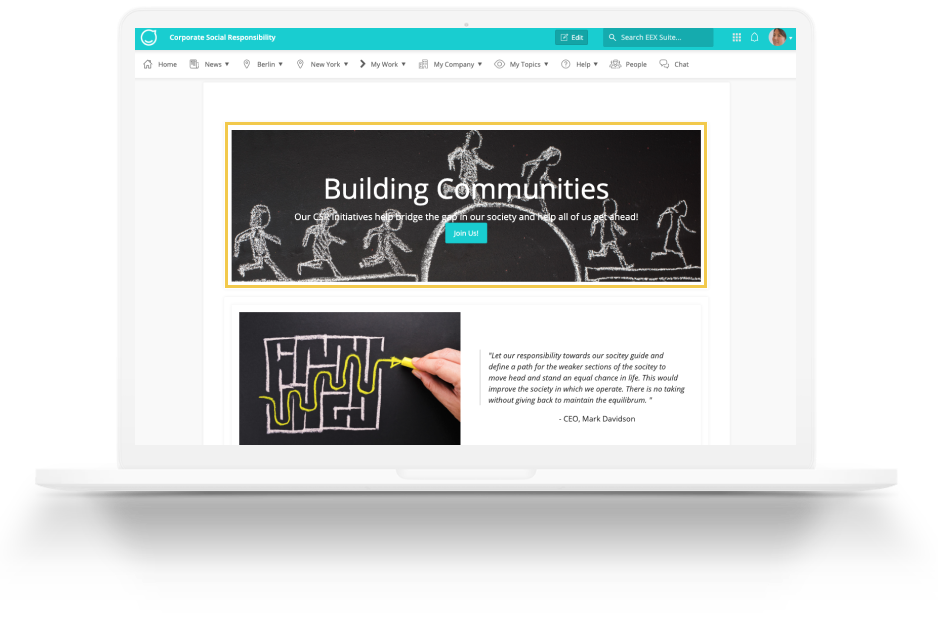 Accordion Widget
To add accordion menus, use the Accordion widget. Accordion menus are stacked headers which, when clicked, reveal content under each heading. This is extremely useful for pages with lengthy content that benefits from a structured presentation. Users get a clear overview of the page and can click the expandable accordion header to read the content within it.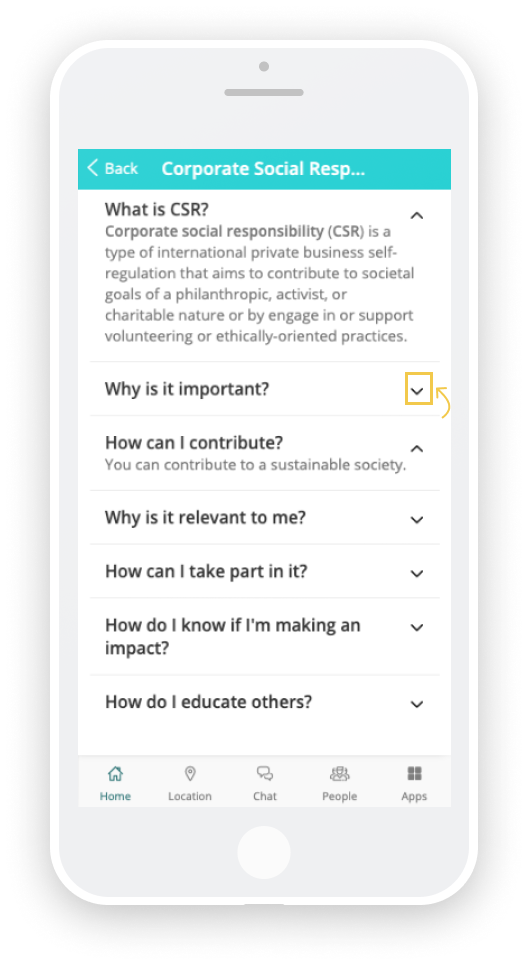 Button Widget
To add a button, use the Button widget. You can link a website, email address, or phone number to the button. When a user clicks on the button widget, the associated function is triggered. This assists users in taking prompt actions. For example, you have paired an email address with a button. When a user clicks on it, the email client installed on the user's device opens to compose an email to the given address.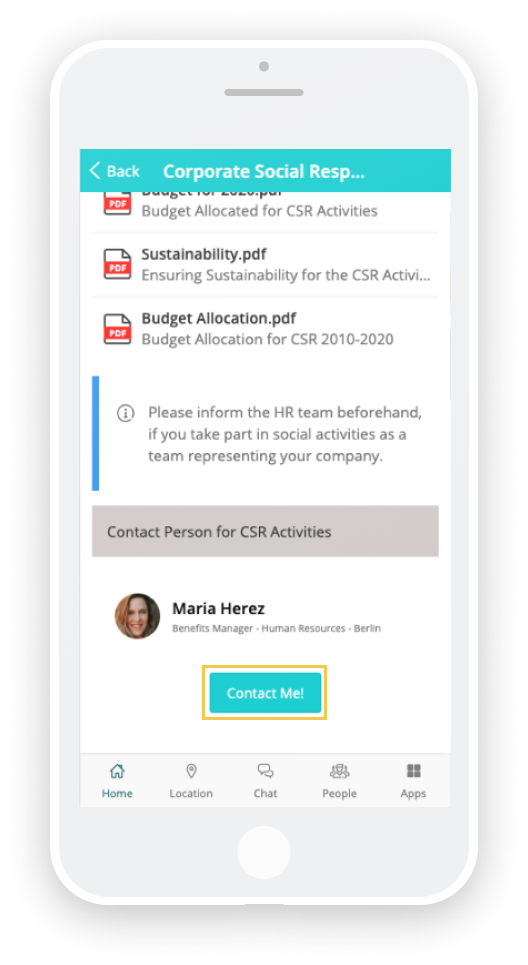 News Stage Widget
To add a center stage to present your news on your pages, use the News Stage widget. You can choose from different layouts and transition styles for the sliders. You can play the video directly from the News Stage. You can define the number of posts to be included in the slider. In addition, you also have the option to include teaser text and social interactions, such as comments, likes, bookmarks, and sharing.
News Feed Widget
To add the Staffbase newsfeed to your pages, use the News Feed widget. The page or section of the page acts like a news segment, which lists posts from a news page or a channel. You can define the number of posts to be included in the newsfeed. Users can see the latest or most interacted-with news posts in the feed depending on the predefined sorting setting of the news page or channel.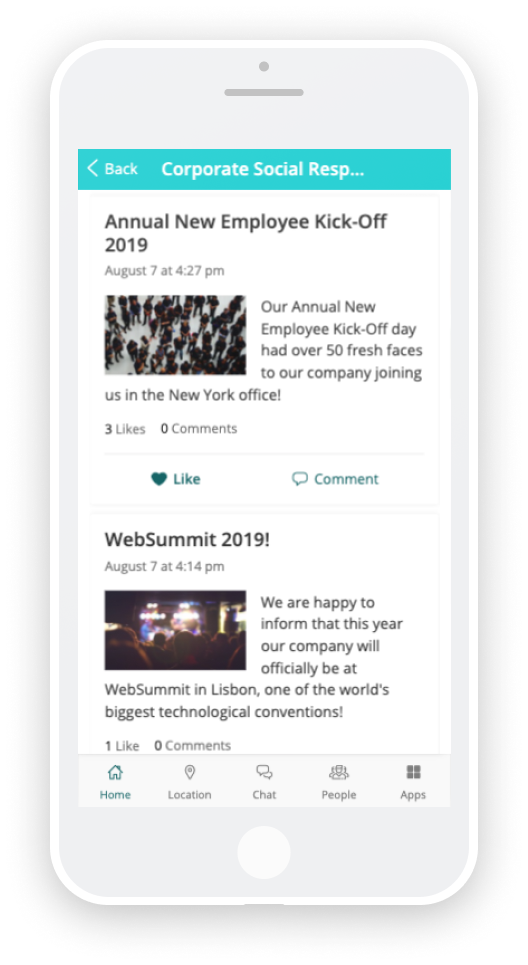 Link List Widget
To add a list of useful website links, use the Link List widget. For example, on a page, you can add relevant links, such as links to picture and video galleries from the past activities, activities planned for the next year, and so on.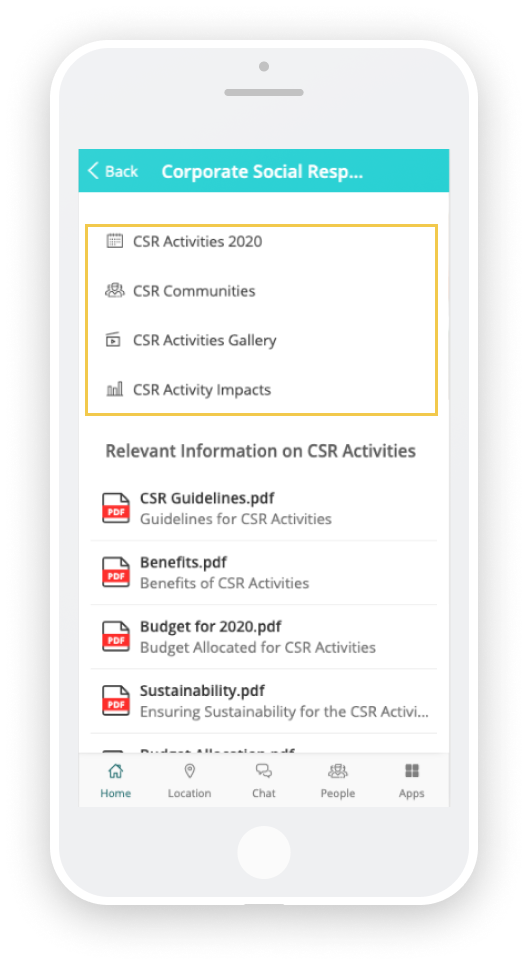 Link Tiles Widget
To add links, which are presented to the users in a tile format, use the Link Tiles widget. When a user clicks on a tile, the link associated with it opens. In addition, you can customize the layout by adding icons and modifying the background color.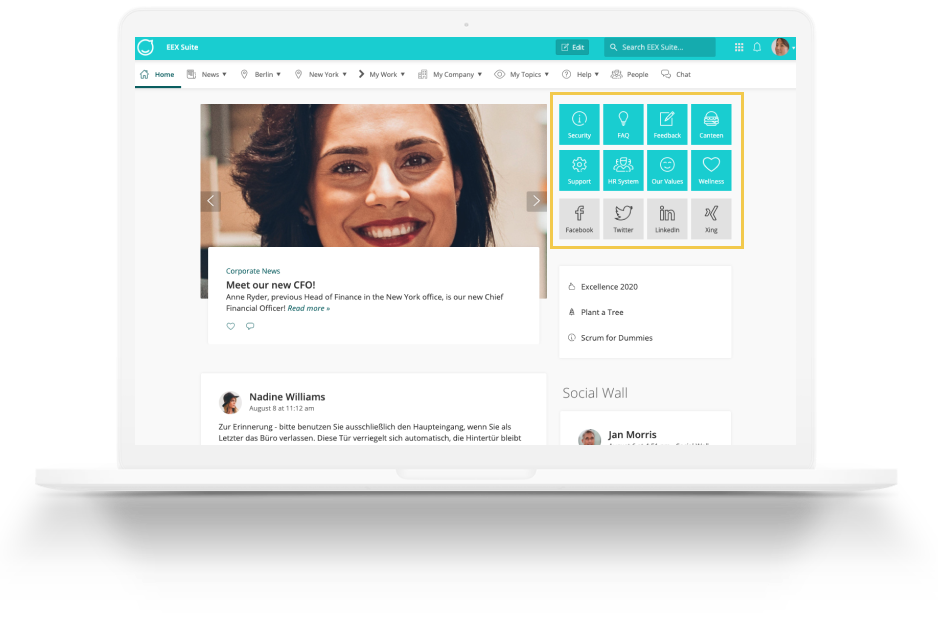 Portfolio Widget
The Portfolio Widget is ideal for linking different branches of similar content, such as different departments, locations, product lines, and more. Contextualize links for your users and make navigation even more intuitive by adding an image or short teaser to each linked item of the Portfolio widget.
All images within the Portfolio widget should be in 16:9 format with a size of at least 1000 x 562 pixels.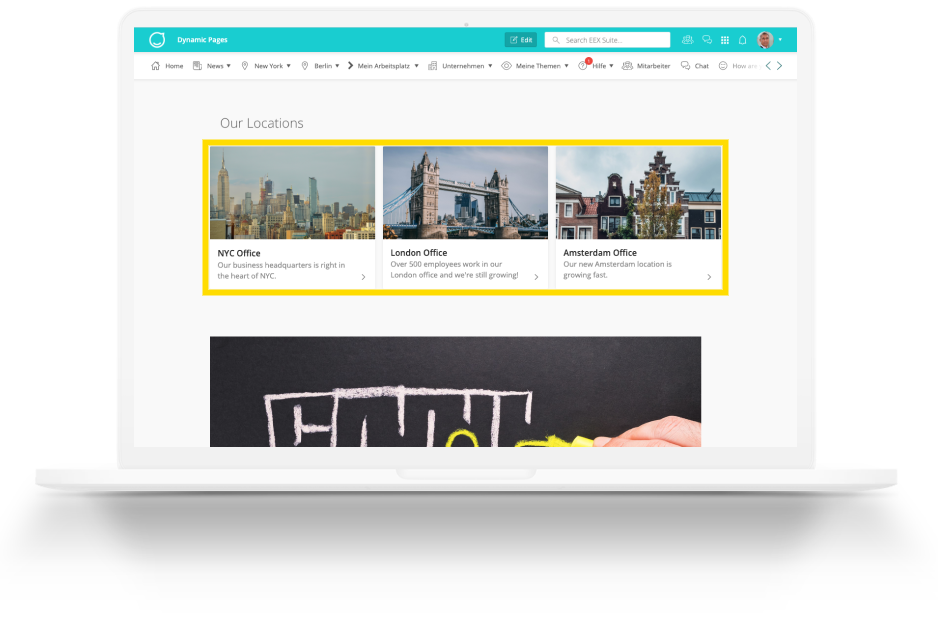 Post Widget
To post content directly to a newsfeed, use the Post widget. The Post widget displays as an input field that users can click on to create posts quickly and intuitively. In the mobile app, you also have the option to configure the input field as a button that floats at the edge of the screen and allows your users to add new content no matter where they are on the page. The Post widget is particularly useful on pages with a high level of interaction, such as social walls, FAQ pages, or marketplace pages.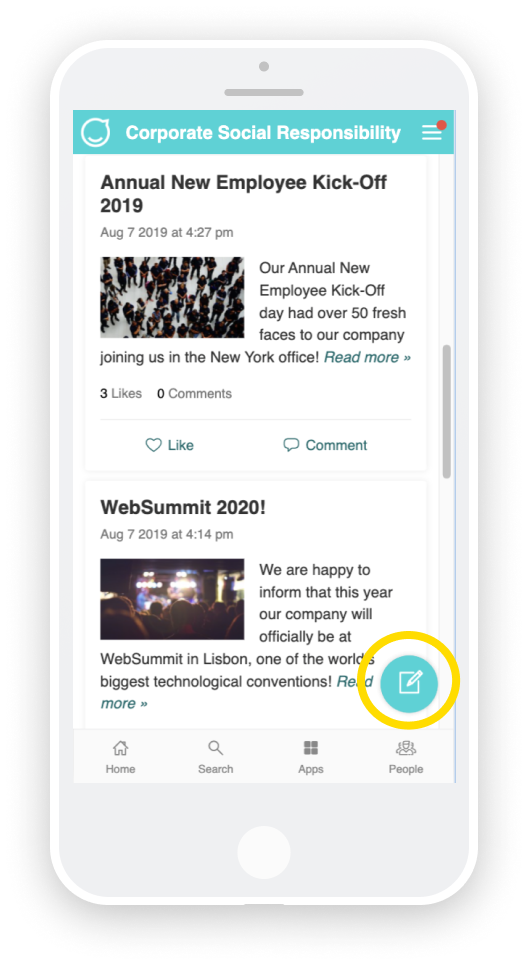 Plugin Widget
To embed plugin content to a page use the Plugin widget. Enhance your pages with plugin content, such as, forms, meal plans, calendar on events, and so on. You can even enable user interactions. This allows your users to submit forms or scroll through the week's cantine options without navigating away from the page.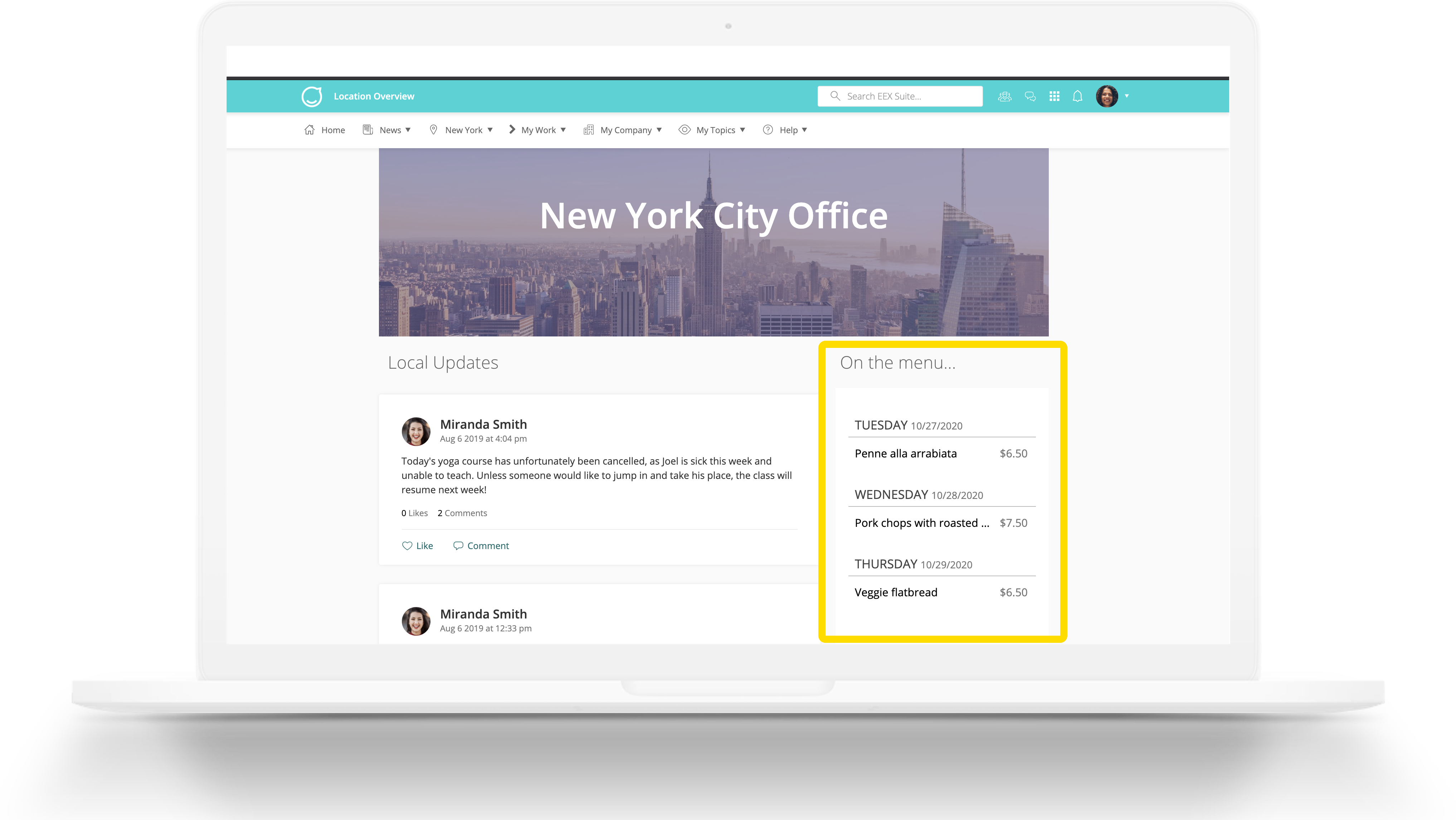 Animation Widget
To add celebratory animations to your news posts that add a playful and engaging touch to your news posts, use the Animation widget. Enhance your posts with confetti, fireworks, balloons, or snow, and share the joy of good news or exciting announcements with your employees in a special way.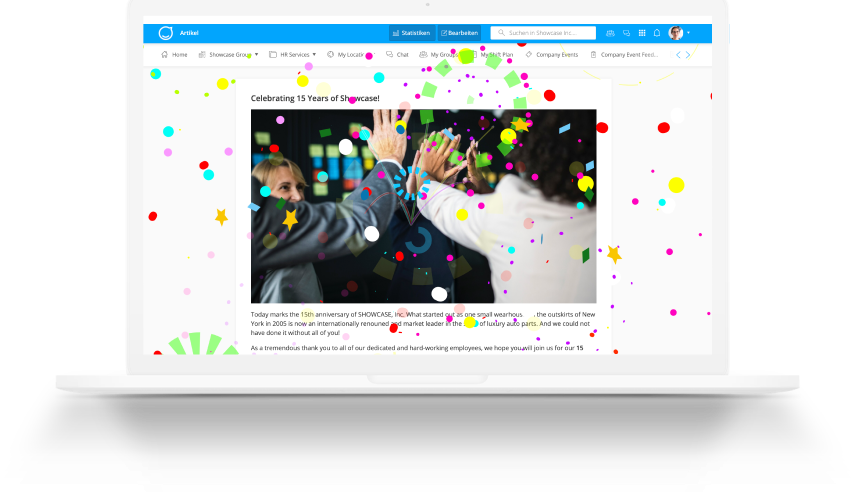 Group Subscription Widget
To allow users to join or leave an open group directly on a page, use the Group Subscription widget. This makes open groups more visible and accessible for your users. The widget recognizes if a user is already a member of the associated group, and appears accordingly. If a user is not a member, they can click the widget button to subscribe to immediately see content from that group. If users are already subscribed to a group, they can unsubscribe to leave the group and hide the content. Additionally, you can customize the button text and color.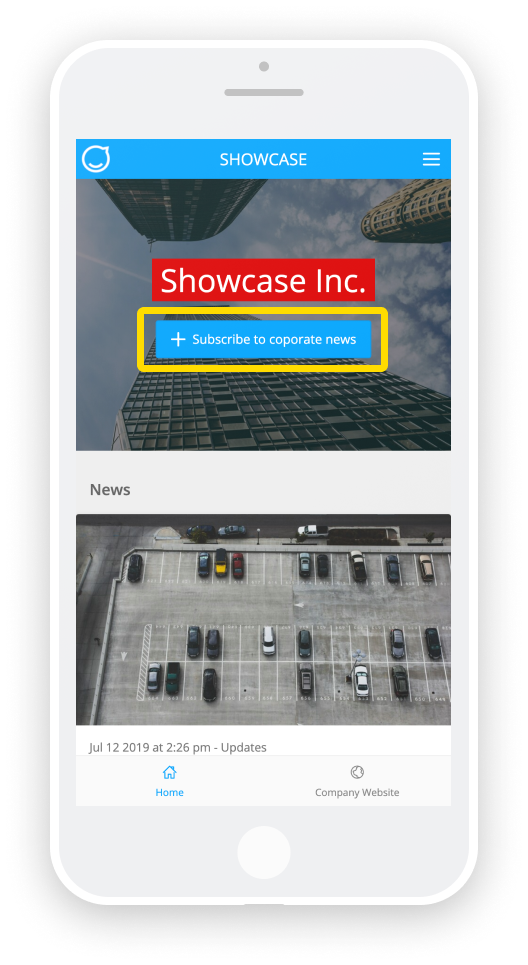 Embedded Pages Widget
To display external websites seamlessly on pages, use the Embedded Pages widget. This lets you strategically show an external website within a page, giving you the opportunity to bring multiple external content streams together in one area. You can customize the height to display optimally on desktop and mobile and enable scrolling and interactions to allow users to navigate and click through the external website without leaving the page.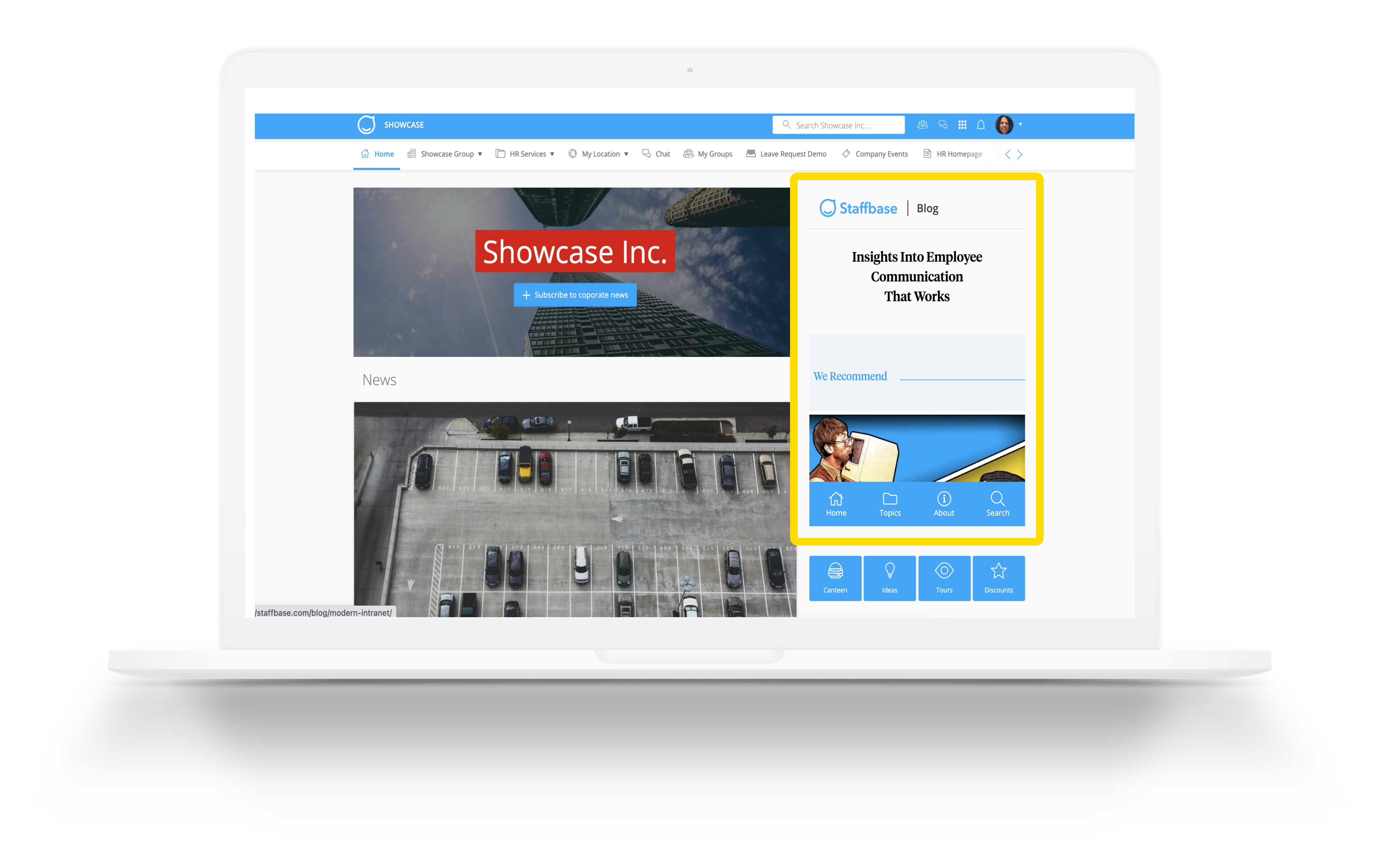 Microsoft 365 Widgets

To enable Microsoft integration in the same design and visual style as that of other standard widgets, use Microsoft 365 widgets. They make content or services from Microsoft platforms available to your users on Pages and News posts. Learn more about Microsoft 365 widgets, here.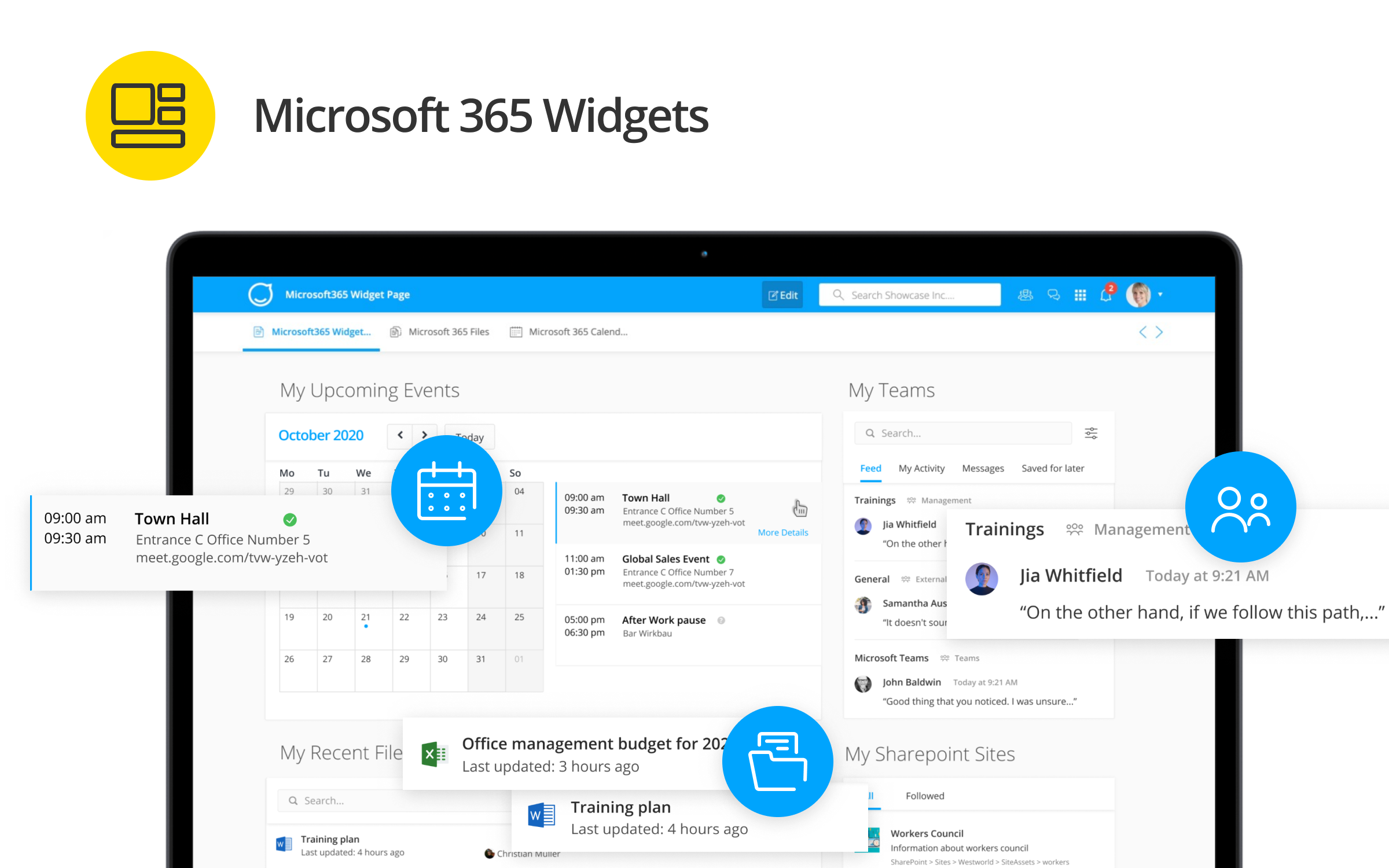 Workday Widgets
To add an overview of users' absence or organizational chart from Workday, use the Workday widgets. They use the same design and visual style as standard Staffbase widgets and display the up-to-date data from Workday in your employee experience app or intranet.
Absence widget: Users get the latest overview of their absence from Workday on a page in their employee experience app or intranet. Additionally, the link to request different types of absence takes users directly to their Workday account.

Org Chart widget: Users can easily access the up-to-date organizational chart under the user profile in their employee experience platform or intranet. Under each user's profile, their own position in the organizational chart is highlighted. Users can easily go to other users' profiles and see where they are placed in the organizational structure. Additionally, the link Open in Workday takes users directly to their Workday account.
Google Drive Widget
To show users their personal Google Drive on a page, use the Google Drive widget. It gives users quick access to their documents, so they can easily see and open them in a new tab. The widget shows a personalized list of users' recently viewed files and allows them to search for specific documents. You can also customize the height to display optimally for desktop and mobile.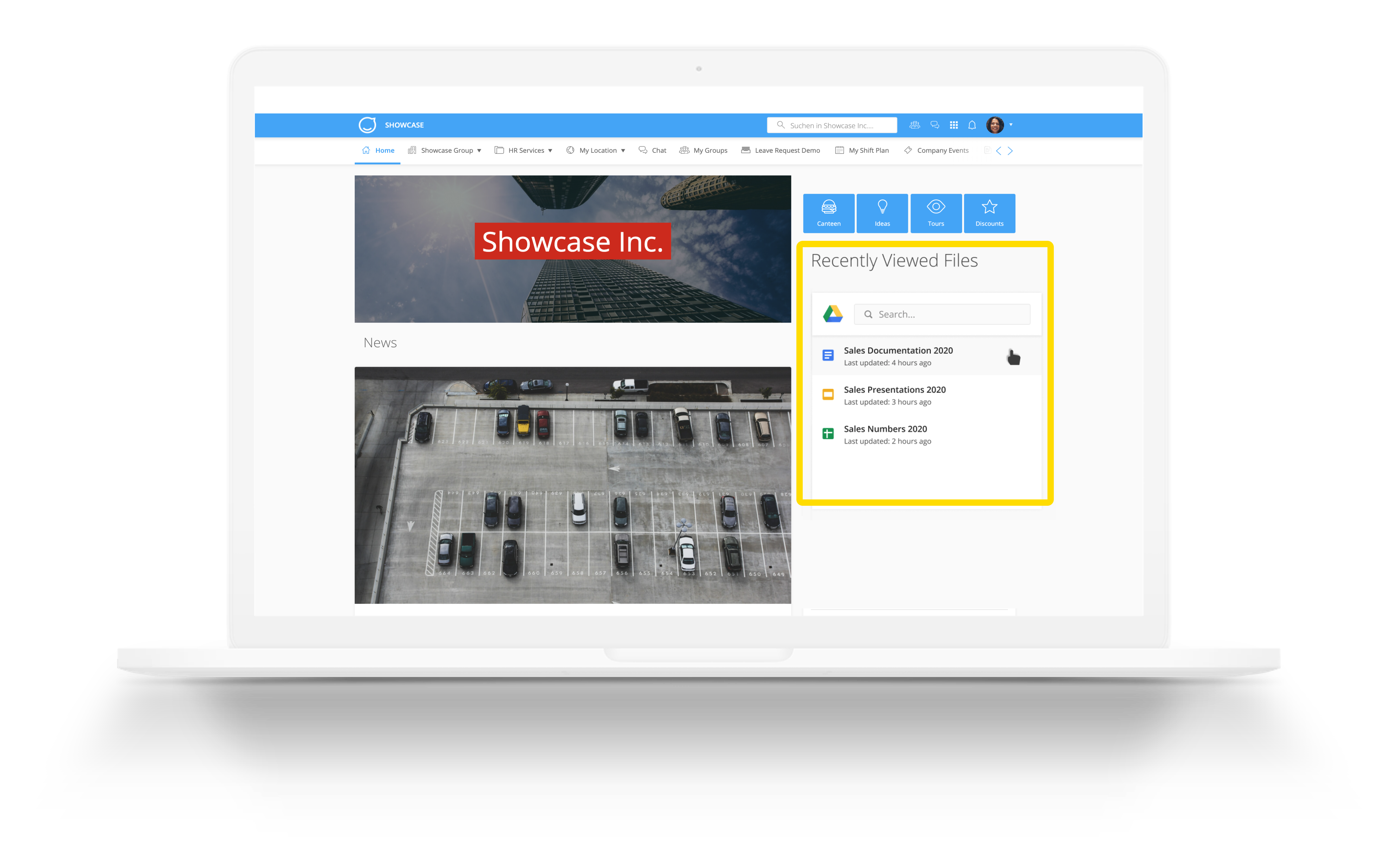 Google Calendar Widget
To show employees' individual Google calendars or a shared team calendar on a page, use the Google Calendar widget. The widget will display upcoming meetings in a convenient list format. Your employees can even open meetings in a new tab directly from the link in the Google Calendar widget. You can also customize the widget height to display the Google Calendar optimally on desktops.