The Google Calendar widget for desktop allows you to make a list of Google calendar meetings available to your employees on a page. You can configure the widget to display your employees' individual calendars or a team calendar. This helps make your intranet a hub for employees, where they can check their schedules and even join meetings directly from the widget.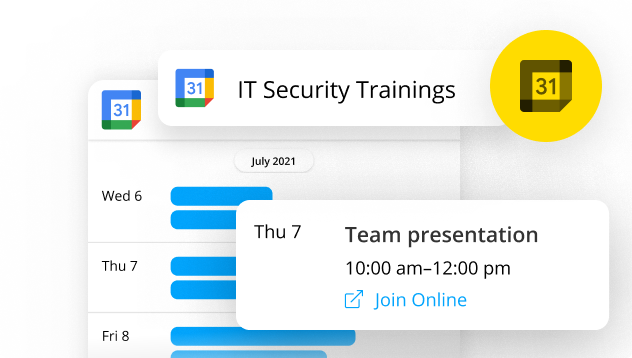 Prerequisites
In the Studio, navigate to the page you want to add the widget to. 
Add the Google Calendar widget.
The dialog to configure the Google Calendar widget opens.
Optionally, provide a title.


This title will be displayed above the widget content.

Deselect the mobile icon, so that the visibility is set for desktop users only.
Select for which users you want to make the widget visible under Visibility in the app.
Under Calendar Type, select if you want to display an Individual or Team calendar. 
If you are setting up a Team calendar, provide the Calendar ID.


You do not need a Calendar ID for individual calendars.

Optionally, customize the height of the widget for desktop devices.
Click OK.
How Users Will View the Google Calendar Widget
Users will see the Google login screen the first time they use the widget. They will need to log in and consent to connect their Google Calendar with your intranet before seeing the calendar.