With Release 4.4, we are bringing employee experience to new heights. The launch of Staffbase Journeys will revolutionize the way you communicate with your employees and allow you to bring them a handcrafted in-app experience like never before. To help your content creators make the most of their content, we've also introduced Reach Analytics, so you can bring your users more of the content they love. The new Post widget and beta versions of the Microsoft Search Extension and Microsoft Teams integrations will also be available starting July 30th to make using the platform an even smoother and more intuitive experience for your employees. 
Reach Even More Employees with New Reach Analytics!
We know how much time and energy your content creators put into bringing your employees important and engaging company news and information. That's why, with the 4.4 release, Staffbase is introducing Reach Analytics free of charge for all customers. Reach Analytics gives your content creators insights and hard numbers to evaluate the success and effectiveness of their content.
For each news post, statistics on the potential audience, total number of visitors, and the ratio of potential visitors to actual visitors (also called reach) is visible directly from the News overview page in the Staffbase Studio. This ratio is visualized as an eye-catching circular graph, making it easy for editors to quickly glean the performance of posts.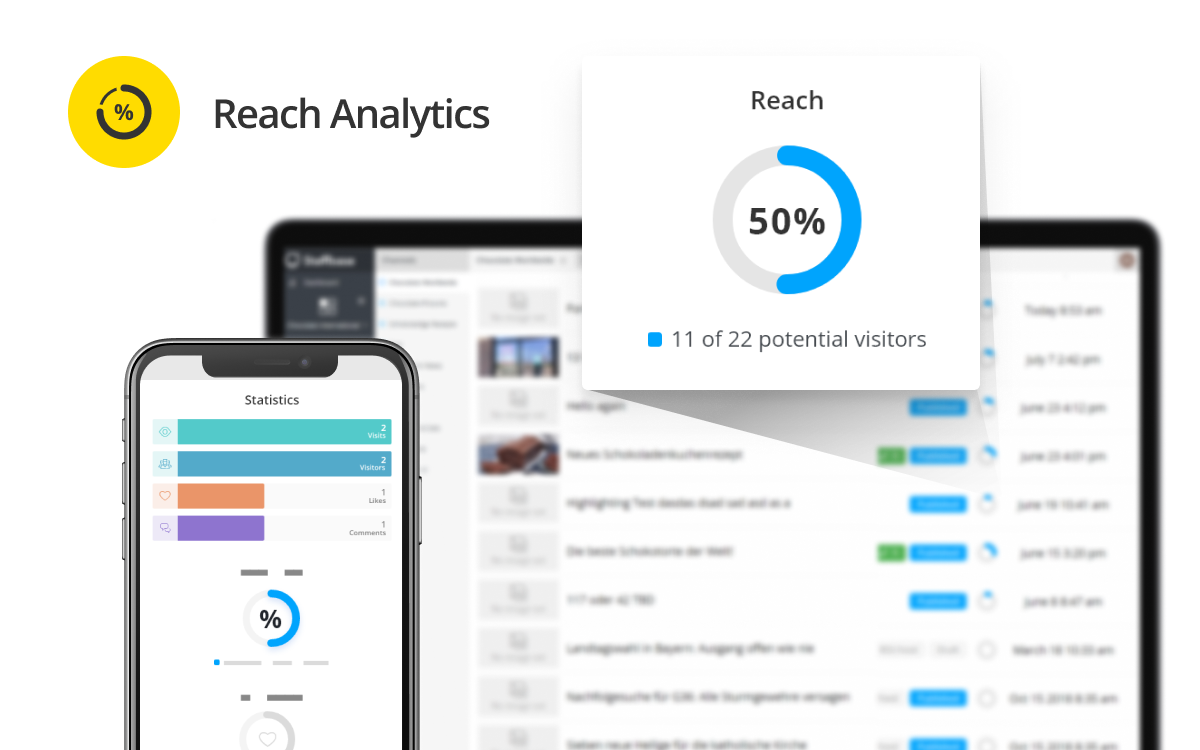 These figures are also accessible to content creators in the editor view in the Statistics section for individual posts. But what we love most about Reach Analytics is that it allows your content creators to access important insights anytime, anywhere. After updating to the latest 4.4 mobile app version, editors can view an array of statistics on reach and social interactions via the Statistics button in the post header even on mobile. 
Let Reach Analytics guide your content creation and bring your employees more of the content they love! 
Be There for Employees Every Step of the Way with Journeys
It's finally here, the tool you've been waiting for to make sharing highly personalized content with your employees scalable to your entire organization! Staffbase release 4.4 introduces Journeys to the platform, so you can provide your employees with the right content at exactly the right moment. 
New employees often feel overwhelmed in their first days at a company, with all the new names and faces, policies, and tools. Amidst all of these process-driven to-do's, there's a part of employee onboarding that sometimes gets left out: culture and connection. But, with Journeys, cultural onboarding is no sweat. Journeys strengthens the onboarding process by adding a highly personal touch through the new Personalization widget, which utilizes user profile information, such as first name, last name, or role, together with user group targeting.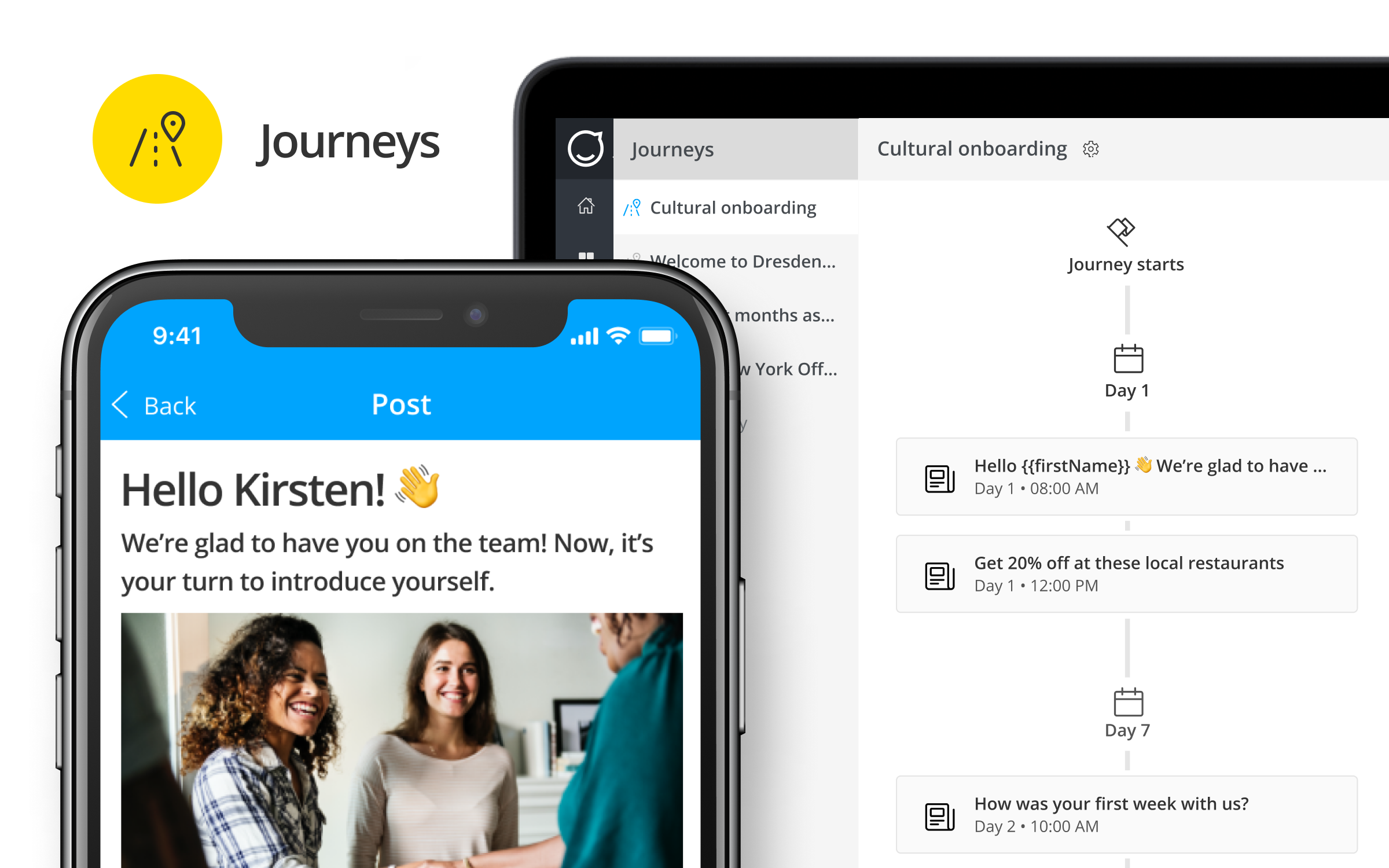 Your authors and editors create content that feels hand-tailored for each employee without losing valuable time in the process. Journeys allows your content creators to reuse effective and informational content and present it to employees at the best suited moment.
But Journeys goes above and beyond just onboarding new employees. Journeys can also be used to bring new group members important information, such as guiding them as they change roles or office locations. Instead of expecting new or visiting employees of a specific office location to search for transit, parking, and operational information, make it available to them instantly with Journeys. 
Use Journeys to anticipate your employees needs and provide an exceptional user experience. Contact your Customer Success Manager for more information on pricing and activation. 
A New Sharing Experience!
Communication is the bread and butter of your communication platform — so why not make it as easy as possible for your employees to share important updates and other content with each other? The Post Widget allows users to post content directly to a specific news channel. This not only saves time, but also makes tiresome searching for the right news channel a thing of the past. Strategically place the Post widget, which displays as an input field, on any page to make posting quick and intuitive for your users. In your mobile app, you also have the option of replacing the input field with a button that floats at the edge of the screen, giving your users the ability to add new content within seconds.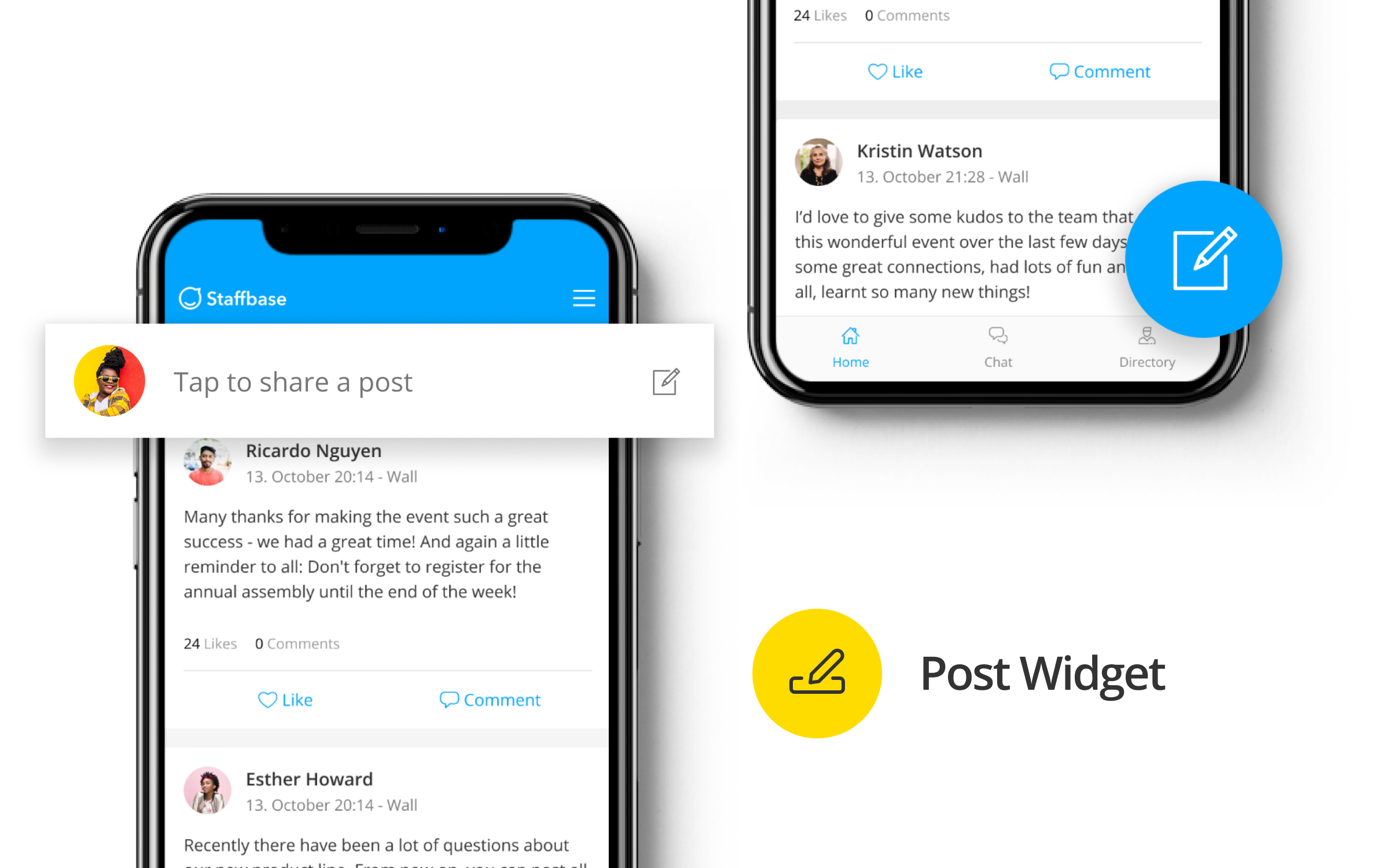 The handy new Post widget will be rolled out for all free of charge!
Enjoy More Flexibility With the New Microsoft Teams Integration and Microsoft 365 Search Extension!
What makes employees more productive? Needless to say, it's the flexibility regarding where and how they work. As a platform, Staffbase strives to provide its users such flexibility by allowing the platform to be used as either an employee app or intranet — or through versatile integration options that enable you to decide where and how you work. With this release, we're taking a step further by blurring the lines between the Microsoft and Staffbase platforms to create a seamless transition for users of both platforms.
And what's flexibility if it's only one way? That's why we bring you a two-way flexibility through:
Whether you use the Staffbase platform as your intranet or employee app, now you can make it available within Microsoft Teams. Boost productivity and collaboration for teams in your organization that heavily use Microsoft Teams, and make sure they don't miss out on important internal and corporate communications by integrating your Staffbase platform into the MS Teams environment.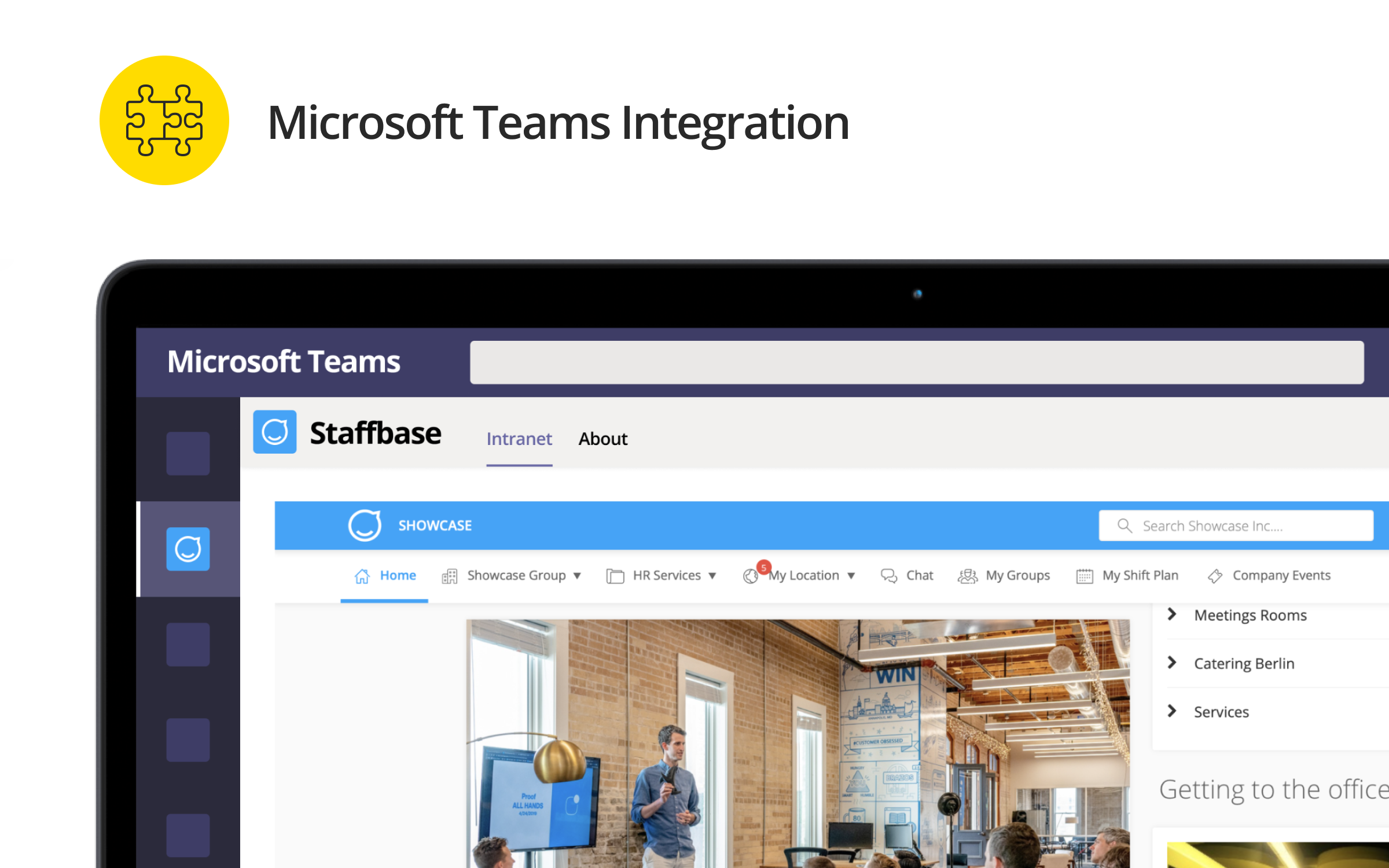 The Microsoft Search Extension offers flexibility from the Staffbase platform. Search for content in Microsoft 365, including SharePoint and OneDrive, from the comfort of your employee app or intranet. Now, users signed into Microsoft can search not only content from the Staffbase platform but also from Microsoft. Search results from Microsoft are conveniently listed in a separate section under the Staffbase search results. Save your content creators the effort of content duplication and let users avoid the hassle of having to switch between platforms to find the right information.

These beta features are a part of the O365 Integrations product. Contact your Customer Success Manager to activate one or both for your organization. Now what are you waiting for? Empower your employees with the flexibility that comes with our platform. 
We've Got More Exciting News!
With the 4.4 release, your editors and administrators might notice something has changed. We've renamed our admin interface to the Studio, because it's more than a place for administrators, it's a place where all content creators help to craft tailored experiences for your employees. This is where the magic happens, and we wanted to give the interface a name that reflects the importance and variety of the work done by your content creators and administrators. 
So what's changed? 
You'll notice all links to switch between the user view and the Studio, previously labeled "Administration," are now labelled "Studio." The Studio layout and functions will remain the same, it's just got a nice new ring to it!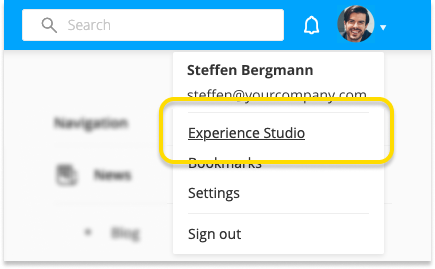 Note on iOS App Updates 
If your app is published through your own app store account, ensure that Apple's recently updated license agreement has been accepted by the account owner in the Apple Developer account by July 24th, so that we can submit the app for release. Visit our
support page
for more details.
New Features
App
A beta version of the COVID-19 Self-Check survey is now available to test. By answering several questions on their current health, employees receive a recommendation about whether or not they should come to the workplace and, if necessary, who to contact.
Improvements
App
On-demand translation is now possible in all widgets on pages and news.
Users can now search for Launchpad apps using the global search. This is available as a beta feature. Contact your Customer Success Manager to activate. 
The latest newsfeed and News Stage widget has been activated for all customers. 
Notifications for interesting comments are now initially deactivated for new users by default. Users can activate this setting at any time.
The mobile app now supports a minimum version of Android 5 and higher and iOS 12 and higher.
Plugins
Studio
It is now also possible to set a user group as administrator of other user groups. This simplifies the maintenance of highly distributed responsibilities within the platform.
Group administrators are now able to set pending users as user group administrators. This also increases flexibility in the maintenance of highly distributed responsibilities.  
Included Minor Release Since 4.3
4.4.0 - June 23, 2020
Bug Fixes
In the Static Content widget, it was not possible to change the background color. This has been fixed.
On Chrome and Firefox browsers, closing a widget configuration dialog caused the view to jump to the end of the page. This has been fixed and the view now remains focused on the widget that was edited.
In the Forms plugin, exporting submissions via CSV did not work as expected. This has been fixed.
When opening a form or the SAML plugin from the search results, an unexpected error occured. This has been fixed and forms and SAML integrations now open as expected.
PDFs submitted using the Forms plugin did not open correctly. This has been fixed.
In the forms submissions email, spaces in the input field labels were replaced with the % sign. This has been fixed now.
On Internet Explorer 11, the admin area for the Forms plugin did not display correctly. This has been fixed.
On Chrome version 81, CSV download was not working correctly for multiple plugins. This has been fixed.
4.3.3 - June 17, 2020
Improvements
Afrikaans, Zulu, Malagasy, and Mongolian have been added as content languages. 
On-demand translation is now possible for content in widgets for pages, as well as in widgets for news.
Previously a user could only save up to 20 bookmarks. Now users can save as many bookmarks as desired.
In the Forms plugin, it is now possible to use emojis when setting up field labels. Also for users, emojis are now possible inside form submissions.
Previously, a user profile image could still be viewed in full size even after cropping by clicking on the image. Now, the cropped section is not visible even when enlarged.
In Chat messages, when linking to in-app content, the content now opens directly within the app.
Bug Fixes
PDFs submitted through the Forms plugin did not open properly from the submissions tab in the Studio. This has been fixed.
In the Forms plugin, deselecting the option 'Make submissions inaccessible to editors and admins' automatically deselected the setting 'Include submission content in notification email'. These settings no longer affect one another.
Exporting form submissions as a CSV file did not work. This has been fixed.
In the Launchpad, when changing the sorting of the apps, the sorting options dialogue did not close afterward. This has been fixed.
In the Launchpad, the placeholder text to search apps did not display correctly. This has been fixed.
When a message failed to send in Chat, using the 'Try again' button to resend a message caused the message to be sent multiple times. This has been fixed.
When using the Chat from the Studio, clicking View Profile redirected to the dashboard of the Studio instead of the user profile.
In the horizontal menu, long folder names were cut off. Text wrapping is now enabled, allowing for long folder names to be fully displayed.
In widgets for pages, it was not possible to change the background color of texts in certain cases. This has been fixed.
Highlighting text within a dialogue and releasing the cursor outside of the dialogue, caused the dialogue to close unexpectedly. This has been fixed.
When leaving the title of the main page blank in branding settings, the word 'undefined' was automatically displayed as the title. Now the title area is displayed empty.
When using the search in German, content categories were displayed in English. This has been fixed.
4.3.2 - May 12, 2020
Improvements
The Portfolio widget can now be used without links. 
The alignment of the Portfolio widget has been enhanced.
The layout of the horizontal menu has been optimized.
For the Hero Image widget, there is now a help text with guidance on image sizes next to the image upload area.
Bug Fixes
When requesting data via the User API, certain requests returned an incorrectly sorted list. This has been resolved.
On posts and pages, an error occurred after clicking See Translation. Automated translations now work as expected.
In the page editor, the formatting of bullet and number lists did not work in sections. This now works as expected.
In the page editor, comments added to the source code disappeared after saving the page. This has been fixed.
 In the page editor, bullet points did not match the text color. This has been fixed.
In Internet Explorer 11, linked images did not display correctly in the Link List and Link Tiles widgets. This has been fixed. 
4.3.1 - April 28, 2020
Improvements
It is now possible to hide all icons from the horizontal menu on desktop, while still allowing the icons to be visible in the menu on mobile devices. Contact your Customer Success Manager to activate this feature. 
If a custom icon was uploaded for a menu item, the system icon was still shown in the edit dialog. Now, the icon picker in the edit dialog is disabled if a custom icon has been used.
Bug Fixes
In Analytics, filtering news posts by platform yielded no results. This has been fixed.
The layout of the Staffbase News webpart in SharePoint appeared broken if a background image was set in your Staffbase employee app. This has been fixed.
The smart content language feature did not set the correct fallback language if the user's browser language was not available in the app. This has been fixed. 
Icons for apps in the Launchpad did not display correctly for admins and users. This has been fixed.
The Network plugin is no longer displayed in the menu of the Studio when a user with the role Editor unpublished it. This has been fixed.
In the Studio, the direct link in the native app live preview was not displayed properly. This has been fixed.
When recording a new video to upload to a chat conversation, the message to request access to the user's microphone was incorrect. This has been corrected.
In the user changelog in the Studio, an Activated entry appeared repeatedly, although the user's status had not changed. This has been fixed. 
Users were not able to sign out of the app from the Settings page using the keyboard shortcut tab and enter.