Profile fields store information on users. User reference is one of the input types used for profile fields. Learn more about the different input fields.
The user reference input type allows a profile field to display the name of a referenced user. This field is displayed as a hyperlink in the user profile that, when clicked, directs you to the referenced user's profile page. Your platform comes with a user reference as a system profile field. This field is ideal for referencing and displaying a user's manager on their profile page.
You can use this field along with the
Org Chart
to display where in the organizational hierarchy a user is placed. This way, you can see the user's manager, subordinates, if any, and co-workers on the same level from the same team.
In certain organizations, users can have two managers –— a departmental manager and a project manager. With a project manager, the subordinate might have a dotted line of reporting. If you want to display both managers, you can create a custom profile field with a user reference input type to display the second manager in the user profile.
Adding a second manager using a custom profile field does not affect the Org Chart.
User Data Syncs to User Reference Input Type Field
In order to use the user reference input type, you need to sync data using one of the following user management methods:
Staffbase recommends using Profile API to update the profile fields.
You need to contact your HR department and IT administrators to help you set up the data.
How a Profile Field With User Reference Input Type Looks to Users
When you open a user profile page, the profile field with the user reference input type shows as a hyperlink. In the example below, it shows the user's manager. When you click the hyperlink, you are directed to the manager's user profile page.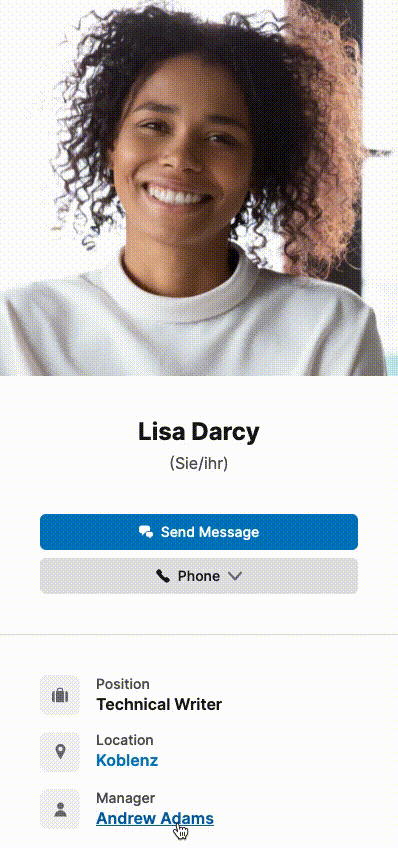 Additional Helpful Information