Note on product naming: As of 2022, Bananatag is Staffbase's Employee Email product.
With the latest release, we've improved the overall speed, stability, and performance of the Outlook 365 add-in. We have also improved the way you send an email via an alias, whether you're sending directly from your Outlook desktop application or through the add-in.
In This Article
Depending on your organization's permissions settings, you may need to contact your Azure Active Directory (AD) administrator to approve the latest add-in.
This version requires the following additional scopes:
mail.readwrite.shared
mail.send.shared
In early August 2022, support is ending for the current Employee Email Outlook 365 add-in.
All Employee Email customers are encouraged to upgrade to the latest version at your earliest convenience.
Getting Access to the Latest Outlook 365 Add-in
You will see a toggle on your add-in sidebar when you open it.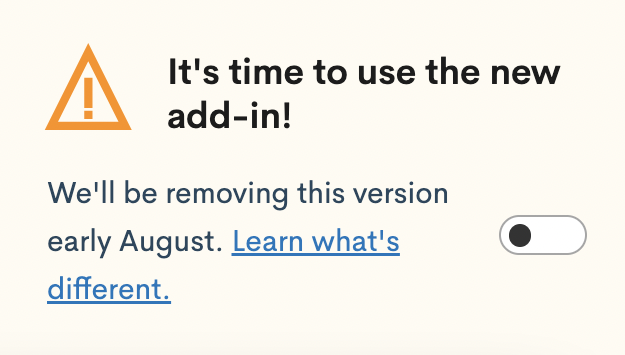 Click on the toggle. The sidebar will automatically close so that it can update to the latest version.
Relaunch the sidebar and authenticate your account.
Accept the Permissions requested by the Bananatag Service API.



If you come across the Approval required dialog while upgrading, the fastest way to fix this is to have an Azure AD admin sign in with their credentials in the dialog.
Send as usual!
Reverting Back to the Previous Add-in Version
From the add-in's Send or Draft sidebar, click on the toggle again.
You will be prompted to reauthenticate to go back to the old add-in.

Sending by Alias More Intuitively With the Latest Add-in
If you're sending an email directly from Outlook 365 that you'd like to track:
Previous Method
Choose an email address for the From field in the add-in sidebar.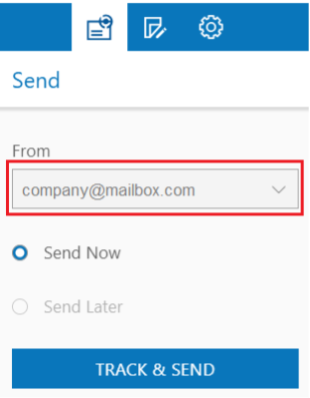 New Method
Choose an email address for the From field directly in your email composer.

If you're sending from an Email Designer draft that you'd like to track, the process is the same as before.

Adding an Alias for the Latest Add-in
In the From field of an Email Designer draft, open the alias selection dropdown.
Click Add New Alias.
Click Add An Account.

Type in the email address that you want to use as an alias.
If you have approval from your IT or Admin to send from this address, you will successfully be able to Save.