Read Time for Employee Email is an optional feature available for activation.
This metric shows you what percentage of your audience glanced at, skimmed, or read your tracked emails.
Before making the Read Time metric available to you, Staffbase Support activates a reliability test to ensure accurate data can be collected for your organization. The testing and evaluation process takes a minimum of nine days.
If you are interested in activating Read Time for your organization, contact your Customer Success Manager.
In This Article
Prerequisites
Email recipients in your organization primarily check their inboxes using Outlook for Windows on their desktop devices
Note: Employee Email collects reliable Read Time data when your recipients open tracked emails with Outlook for Windows on desktop. It is not possible to collect data from other sources that work differently, such as:
Outlook mobile
Outlook on the web
Email applications other than Outlook
Read Time measurements work with multiple methods of sending tracked emails, including:
How Read Time Works
Read Time is a measurement of how long recipients view each email you send and track with Employee Email.
We collect this data using the same tracking pixel that already measures how and when your sent emails are being opened. Read Time is counted by continuously connecting to the tracking pixel, which stays connected for as long as the email is being actively viewed.
How Read Time Data Is Displayed
When Employee Email tracks and records your Read Time data, the Email Stats page displays a visualization of Read Time Buckets for each sent email.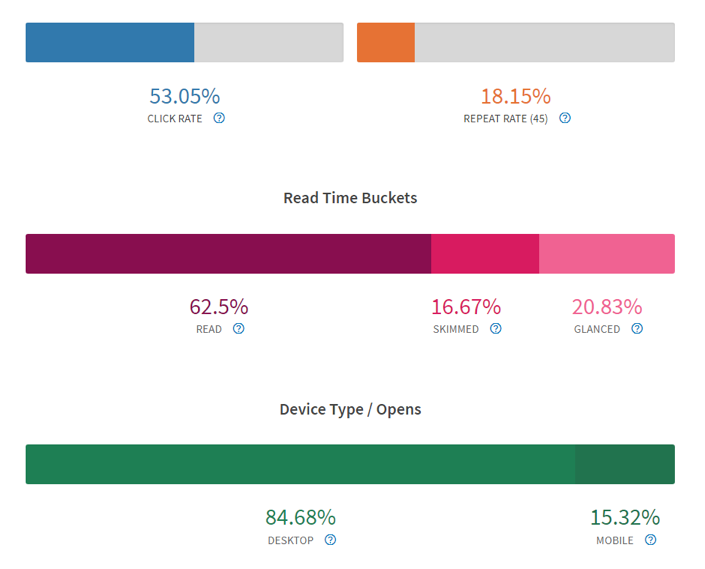 Read Time Buckets show what percentage of the total opens resulted in emails being actively viewed for different lengths of time:
Read: 9+ seconds
Skimmed: 3 - 8 seconds
Glanced: 1 - 2 seconds
When you build custom reports to combine data from multiple sent emails, you also have the option to include the Read Time data that you have collected over time.