Staffbase 365 News Central for SharePoint combines the power of the Staffbase Studio with SharePoint Online to help editors deliver news content without compromising on the amazing user experiences or the editor-rich features that the Staffbase platform offers. News Central helps internal communicators focus on what's most important—keeping users informed, providing a personalized experience, and monitoring reach and usage. Editors can also use additional editor-focused features in the Studio, such as Campaigns, Editorial Calendar, Comment Moderation, and more, to orchestrate news content to users in SharePoint. Contact your Customer Success Manager to learn more about those features.
Install and configure Staffbase 365 News Central to allow your editors to add News from the Staffbase platform to pages in a SharePoint Online site in visually appealing layouts. This way, your users can consume news on SharePoint delivered by the Staffbase platform.
The highlights of News Central for SharePoint Online are:
Accessible information
Select a news source from a list of channels and news pages from their employee app or intranet to be displayed in the web part.
Sleek layouts
Select from four different layout options and display news in visually appealing formats.
Personalized experience
Users have access to a news menu, which helps them stay notified and informed according to their preferences.
Analytics
Monitor and analyze news consumption using different features in the Studio. Editors can analyze reach, resend notifications, moderate comments to create a safe environment for users, and much more.
News post creation and editing
Create or edit news posts from the comfort of your SharePoint with the click of a button. Editors can seamlessly create or edit a news post in the Studio from SharePoint.
The + icon to create news posts is only visible to users with permission to create news posts.
News Menu
The news menu available with the web part gives users a customized experience with the following features:
Notifications: To stay notified of the latest news and activities through the Notification Center
Search: To comb through the channel or news page to locate a specific news item
Bookmarks: To create a list of favorite or interesting news posts to visit later
Subscriptions: To subscribe to news items from relevant groups
News post creation: To create news posts in the Staffbase Studio

The news menu comes with an expand and collapse option. It gives you access to all the relevant features to stay informed and even create news posts from the Staffbase Studio.
Layouts
News Central for SharePoint comes with sleek layouts that enhance your users' experience of getting the latest news and staying on top of tasks. News can be displayed to users in four different layouts:
The carousel layout has a slideshow of news stories on display for users. The autoplay option allows the news items in the carousel to be played in a loop to help users consume the latest with minimal effort. The carousel navigation dots help users go through the news items at their pace.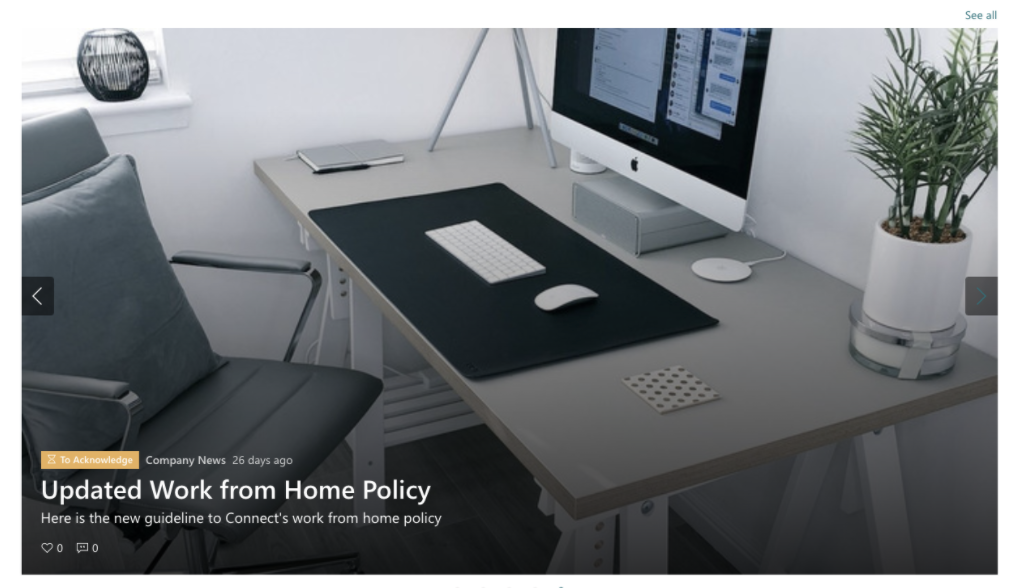 The tiles layout has news in tile format for the users. The first news item gets a larger tile, and all following posts get a smaller tile format. On each tile, the teaser text and other information give users more context around the news post.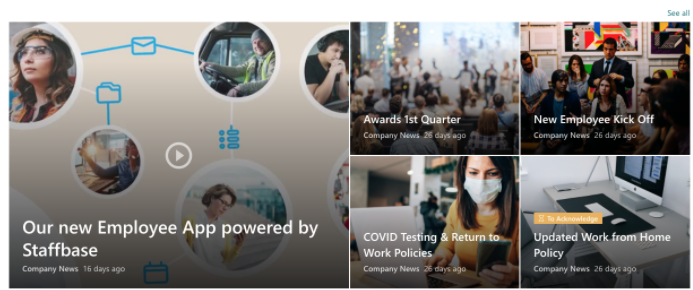 The side-by-side layout has news in a two-column list for users, highlighting the post's title, whether the post is urgent or needs to be acknowledged, and so on.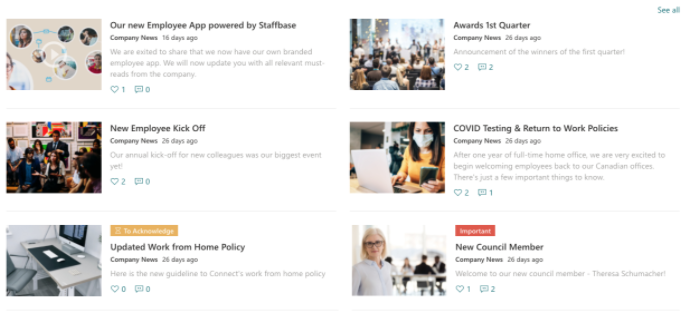 The list layout has news in a simple list format for the users.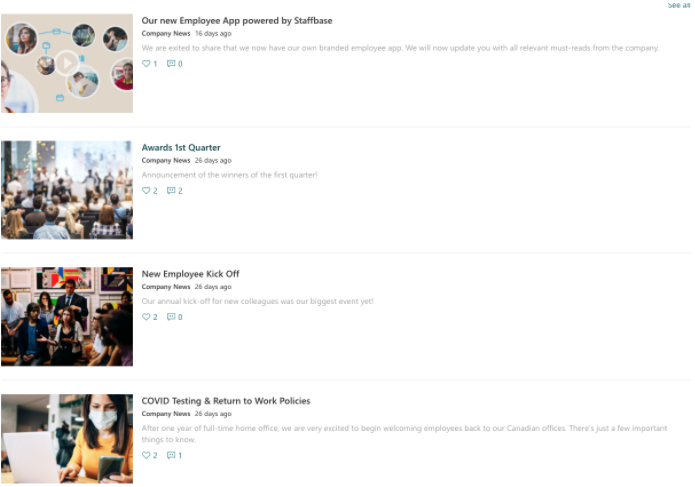 Additional Helpful Information