The Analytics dashboard provides deeper insights into how, when, and where users engage with the Staffbase platform. The Analytics dashboard is divided into four different categories to allow you to dive deep into metrics: 
There is additionally an optional tab for Hashtags. This tab is currently in beta and is available by activation only. Reach out to Staffbase Support or your Customer Success Manager for more information.
This article explains the Hashtag tab in detail, including the graphs and analytical data found within them. Learn more about the entire Analytics dashboard, including user role access, in the Overview of the Analytics Dashboard.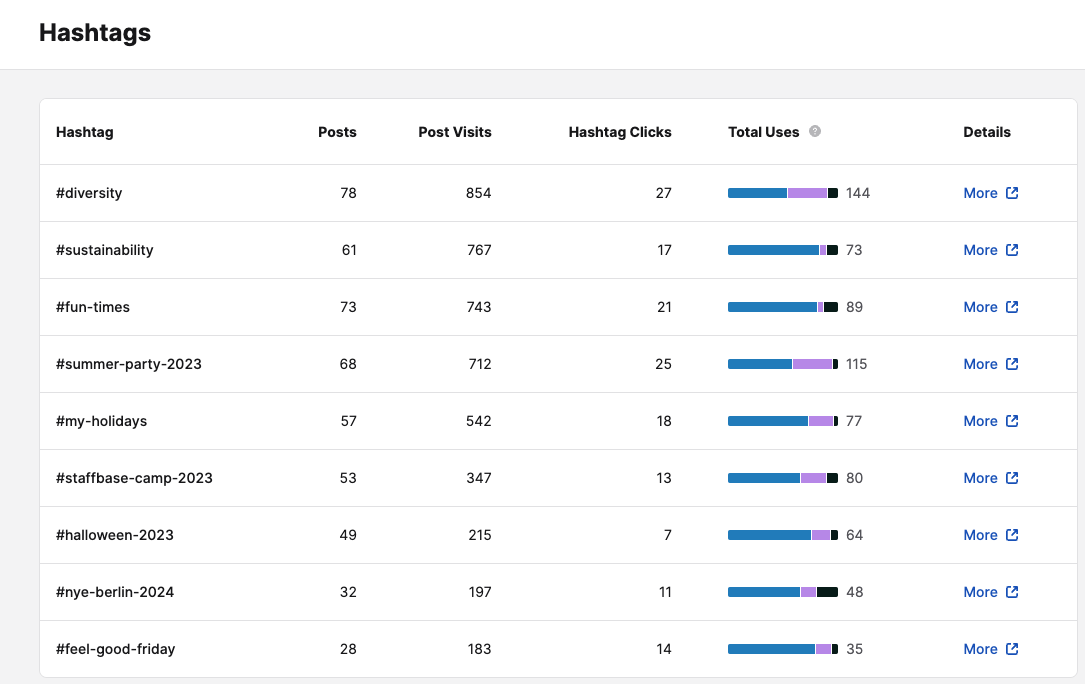 Hashtag Graph
In the Hashtags tab, there is one list with detailed metrics about your content.
Hashtag List
The Hashtag list is an extensive overview of the hashtags that are used in your platform. The list displays hashtags used in news posts, pages, and comments. Learn more about hashtags, including the hashtag results page, in the overview article.
The different table headers are:
Header
Description
Hashtag
Posts

Number of posts that contain the hashtag

Post Visits

Total number of user visits for all posts that contain the hashtag

Hashtag Clicks

Number of times a user has clicked on the hashtag or visited the hashtag results page

Total Uses

Total number of content items that contain the hashtag 
The content items can be posts, pages, or comments

Action

Related hashtag results page
By default, the table is sorted by hashtag name. You can further sort the table by clicking on the Posts, Post Visits, and Hashtag Clicks headers.
Sorting the Hashtag List
You can sort the Hashtag list by three of the different table headers, Posts, Post Visits, and Hashtag Clicks.
In the Studio, navigate to Analytics > Hashtags.
The Hashtag List displays.
Click on the header by which you want to sort the list.
The list automatically sorts by the selected header.

You have sorted the Hashtag list by a different header. If you navigate away from the Hashtags tab, the results automatically reset to display by the hashtag name.