In Internal Communications it's standard for communicators to send on behalf of leaders and from shared mailboxes to help create consistency, trust, and branding within their communications strategy.
When you use aliases to send from multiple email addresses using the Employee Email add-in for Outlook 365 or Outlook Classic, sometimes errors can occur.
This guide will walk you through the steps required to either solve these issues yourself or point you in the right direction, depending on whether you use the add-in for Outlook 365 or Outlook Classic.
Outlook 365
Before proceeding, please ensure that all alias mailboxes have accounts created within Employee Email and that they are linked to the correct subscription.
For emails created using the native Outlook compose window, you will only be required to change the From field drop-down menu within the compose window before selecting the Track & Send button to track the email.





For emails created using our Email Designer, you will have to option to add additional aliases via the Add New Alias option available within the From drop-down menu in the O365 add-in sending window.





You will be able to add and remove existing aliases through the menu that opens up:

Important Note
The following information will only apply to users who are still using the previous version of our Outlook 365 add-in. We strongly recommend trying out the latest version.

The most common mistake users make when using our add-in for Outlook 365 is changing the From field in the native Outlook window, as in this example:

This will technically send, but it will bypass some functionality and prevent various issues for you including but not limited to:
metrics going to the wrong dashboard

emails not being tracked

links not being tracked

emails sending immediately instead of when you scheduled them to
The correct way to send from other mailboxes with Employee Email is to use Aliases, by changing the From field in the sidebar on a draft: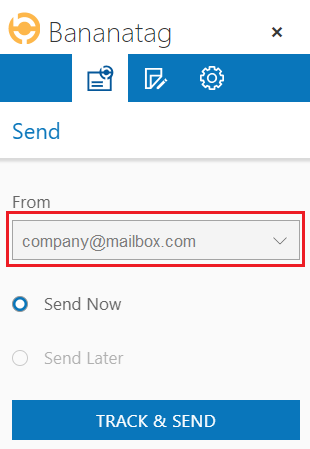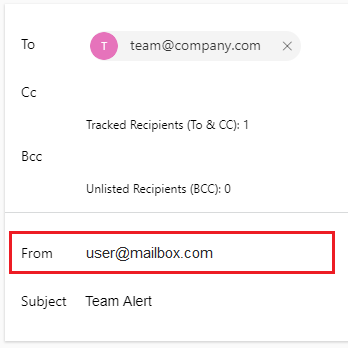 It's important that when you aren't sending an Email Designer Draft, leave your native outlook window as-is, only modifying the message body, subject, to, cc, and bcc fields. If you use the Send button in native Outlook, and not the one in the sidebar, this will bypass the Alias you've selected and ignore Employee Email completely.
Error Notification or Email is stuck in Drafts after attempting to send from Alias

These types of errors would indicate that you no longer have send-as permission for the mailbox/alias you are trying to use. You should contact your organization's IT Help desk so that they can investigate from their side.
Outlook Classic
The add-in for Outlook Classic will adopt all the same mailboxes you have already set up with send as permission but if you're in the add-in trying to send a Draft and you don't see your Mailbox as an option in the From field, your next step is to close the add-in, open a new email in Outlook and send an email to yourself, untracked, from that mailbox.
If it works, try going into the add-in again and you should see that mailbox available now. If not, you should contact support by clicking Report Bug from your Outlook Home screen.
If you run into any generic errors when trying to send an email from another mailbox, try selecting your personal account and sending it to yourself (untracked) as a test first. If the error still persists, it's likely something else causing the problem and you should click Report Bug from your Outlook Home screen to contact support.