The public area is the part of your app that will be visible to users prior to login. This a great place to showcase information that's meant for a broader target group; for example, customers, partners, and potential employees. You can use this space proactively for your public-facing communication efforts. Many Staffbase customers use the public area to share job postings, press releases, and other marketing material suitable for a public audience.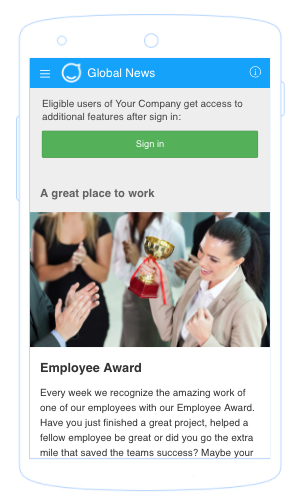 If you plan to distribute your app via the app stores, it is a requirement to have some public content. The reason for this is that the app stores do not accept apps that solely serve an internal audience. The reviewer will consider if the app has the required public relevance.
We recommend to add at least three news posts and some more content, such as a static page or a map. This is usually enough to show the reviewer that your app is also providing value for a broader audience. Only adding links to your websites is not regarded as sufficient content, try to create new content that works within an app.