What can I search for?
When you search in the platform, the search engine searches for matches in a variety of different places across the platform:
Pages
News Channels
News Posts
Content titles
Files added to News and Pages
Employee Directory, if set up for your organization
Launchpad apps, if set up for your organization
Open group content, if set up for your organization
Microsoft 365 contents, if set up for your organization
How are search results ordered?
The search indexes the platform's contents, so that when you search, results can be quickly scanned and ranked. Direct matches to user names or post titles will be listed at the top of the search results, followed by other less direct matches. New and recently updated posts are also sorted with a high priority in your results list. Use the dropdown menus for sorting your search results, for example, by date or relevance.
The search function also allows for partial search. This means that if you begin typing a word, predictive results will begin to appear and be narrowed down with each letter you add.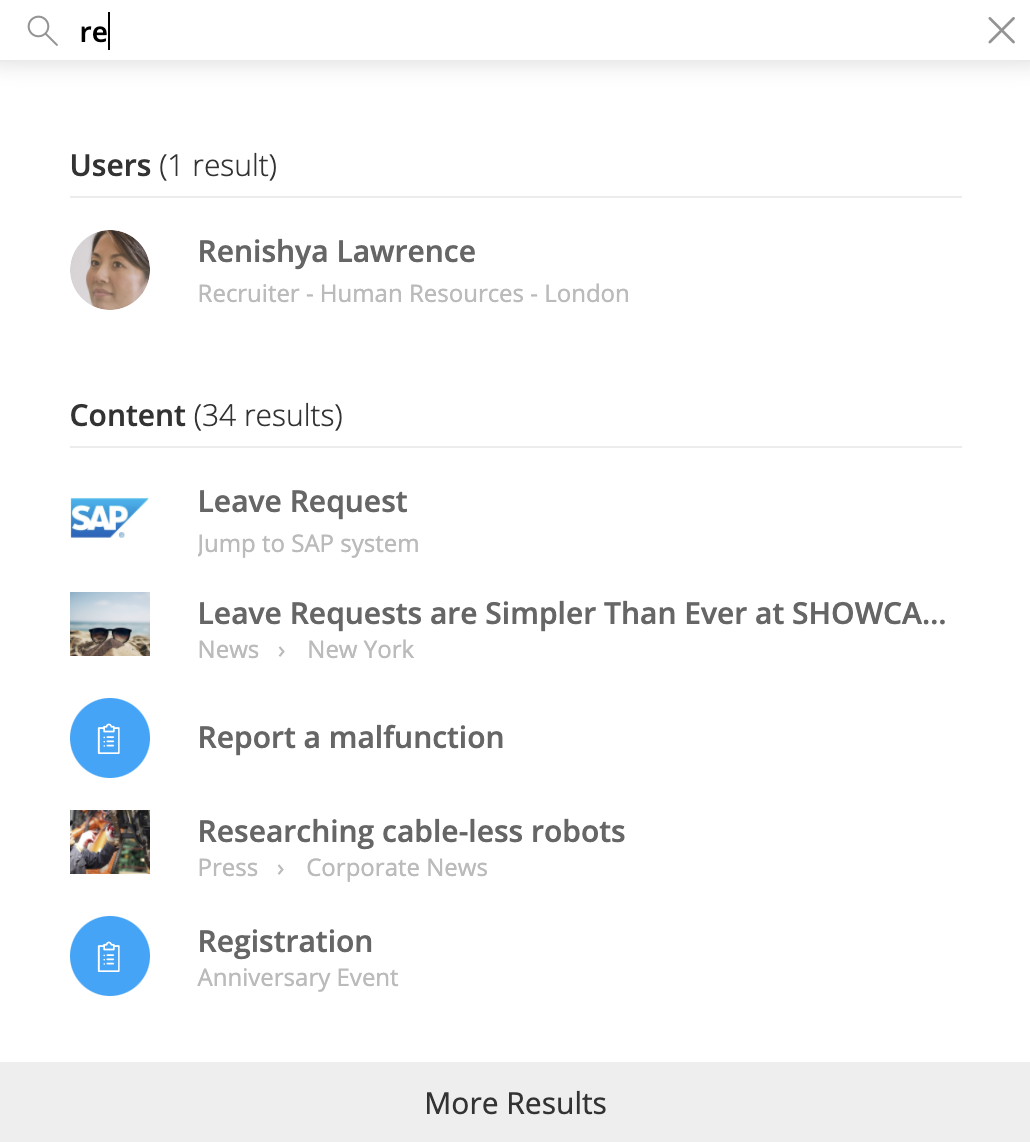 How can I refine my search?
Apply filters to your search results to narrow your search and find content that is relevant to you.
Under the News tab, you can filter by:
Channel: Select five most relevant channels
Published by: Select five most relevant authors
Date: Select a date range by providing from and to date
Under the Files tab, you can filter by:
File Type: Select the type of files you want to be included in the search
File Location: Select the location where the file is found in the platform
Upload Date: Select a date range for when files were uploaded
Can I view my search results on the page?
Yes. Once you have searched for a term and selected a page from the search results page, a dialog will display at the bottom of the page prompting you to begin the on-page search.

If you want to see exactly where your search term appears on the page, click Show Results and all occurrences of your search term will be highlighted, so you can find them easily.
Can I search for content within a file?
Yes, you can search for content within all text-based file types. When searching for the term Europe in the example below, the file displayed in the result is shown, even though the title does not contain the search term.


Why can't I find what I am searching for?
There could be a few reasons:
Spelling and typos: Check your search term for typos or try alternative spellings and keywords for your search term.
It could be that no content exists yet for the term you are searching for or that existing content has been deleted.
If you're searching something numerical, such as a phone number, be sure to use the appropriate formatting.
Some content may only be available for specific device types.
You may not have the required permissions to view certain content.
Will new content and updates be displayed immediately in search results?
Yes, as soon as new content is published in the platform, it will be immediately available in the search.
Why am I seeing results in the search that I cannot find using the menu?
Depending on the setup of your platform, using the search function often yields more results than navigating through the menu. Menus for mobile devices, for example, are often simplified to make menu navigation easier and less cluttered. It's also possible for you to find open group content, for groups that you are not a member of. Such 'open content' is then only accessible via search. Depending on how your editors set up the menu, some contents may only be found by searching for them directly.
How can I see the location of a search result in the platform?
In the search results, a location path is displayed under the name of each piece of content. This shows where the content 'lives' as breadcrumbs. In this example, this post on sick day guidelines can be found under the menu item 'News' in the folder 'HR News'.

What languages can I search in?
If platform contents are available in multiple languages, you can use search terms from any available content language. Your results, however, will display in the content language you have selected for your profile, if available. In this example, the user has set English as their preferred content language. That is why the search results display in English, although the search term itself is in German.