Front Door Package
Activation
Administrator
The Launchpad functions in a similar way to the Launcher on a smartphone. It is a place where you can add apps to all the websites, tools, and apps your users access regularly. An app can be anything from a software tool that your employees use regularly to an external website. 
As all apps are not of equal importance to everyone in your company, you can configure the launchpad to target sets of users. Then, each department or group sees a launchpad configured to their needs. Activate the launchpad in your employee app and give your users a shortcut to their most valuable work tools. 
The Launchpad is optimized for use on desktops. If you would like to add the Launchpad for your mobile users as well, contact your Customer Success Manager to learn about the options. 
Adding Apps to the Launchpad
You need to add at least one app to make the Launchpad visible to users.
In the admin interface, navigate to

Launchpad

in the

System

menu. 

Click Add app.





A dialog to add a new app to the Launchpad opens. 




Give your app a title. 

For Target URL, add the link to the app.

Upload an icon for this app. 

Provide a description of the app. 


This description will provide keywords for the search function and help users learn more about the app when they hover over the icon with their cursor.

Select the visibility of the app from the dropdown menu. 


Make sure users have access to the apps, software, and websites that you add to the launchpad. If only a specific user group has access to the app, define the visibility of this app, when adding the app to the Launchpad. 

Select on which types of devices the app will be available on by clicking on the corresponding icon.


For example, if a software is available for desktop only, you can deactivate it on mobile.

Click

OK

.
How Users Will View the Launchpad in the App
On desktop, the Launchpad is visible in the top menu bar.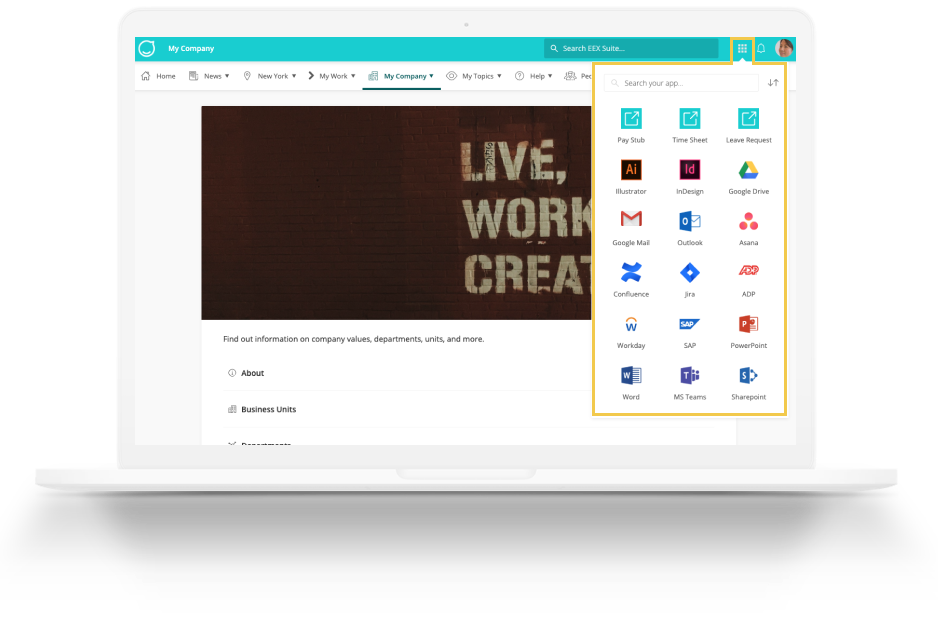 How Does the Custom Setup of The Launchpad Look for My Mobile Users? 
On mobile devices, the Launchpad can be made available via adding a link to it. Such links can either be added to the menu with the Link plugin or in the Quick Links bar. In both cases, the link opens the Launchpad page, from which users can either scroll through the apps or use the search function.
To set up the link, reach out to your Customer Success Manager.