The quickest way to start adding contacts to your Staffbase Email web app so you can build custom distribution lists is to upload them using a comma-separated values (CSV) file. You can create and edit this type of file in most spreadsheet applications.
You also have the option to configure automatic syncs with Azure Active Directory (Azure AD) and/or Workday, which does not require manual efforts after configuration and will be automatically synced on a regular basis.
For contacts uploaded via a CSV file, you will have to manually upload a new version of the file any time your contacts' information changes. However, this process is simple to do. Staffbase recommends setting up a regular check-in with your IT team where they export a spreadsheet from your organization's employee data system(s) and provide it for you to upload.
Note: This functionality is only available if you send emails directly from the Staffbase Email web app. This article is not relevant if you have installed an add-in or extension and you send tracked emails from your email client.
If you have the Staffbase App/Intranet integrated with Staffbase Email, the most efficient way to set up your contacts is by onboarding users to your App/Intranet, then configuring how your users are synced as email contacts.
Preparing a CSV File to Upload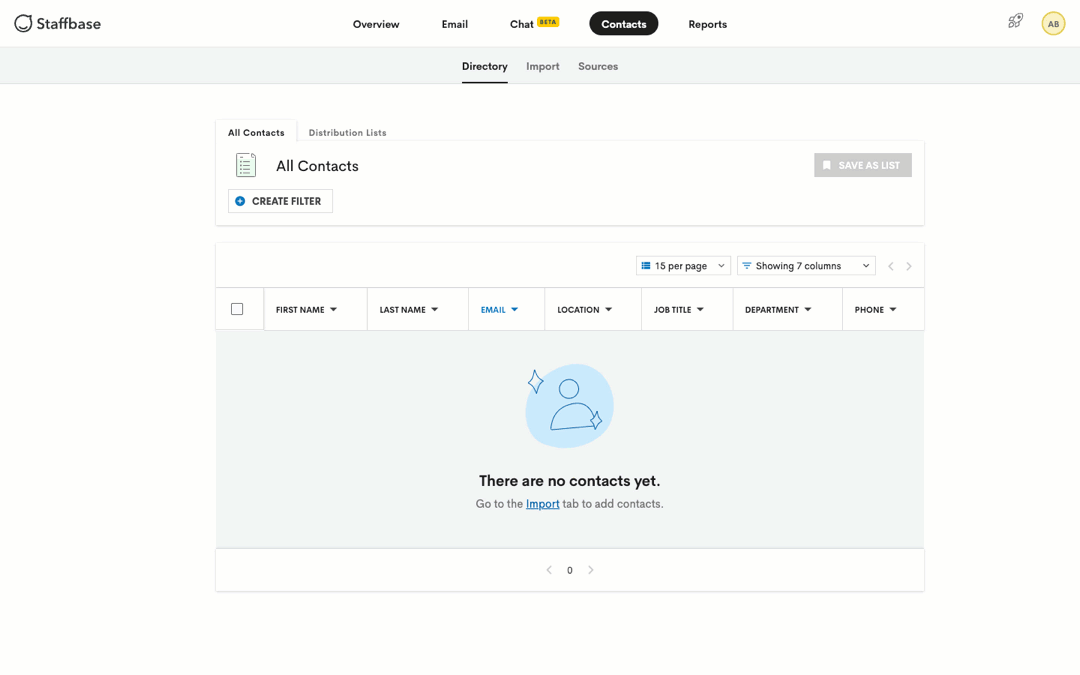 In the Staffbase Email web app, navigate to Contacts > Import and click the CSV tile.
Click Download a sample CSV document and open the downloaded file.
The CSV file opens and its header row shows the main attributes that identify and group contacts in Staffbase Email including first and last names, email address, location, department, and job title.

Attributes are the characteristics that differentiate one recipient from another, which enable you to segment your audience and target your communications to specific groups.

Edit the file or create a new CSV file and include the sample values in the header row.
Enter appropriate contact data in the columns below the header values.
Optionally, add, edit, or remove any columns in your header row except for the one being used as the Unique Contact ID. Additional columns can include more attributes that are tracked in your organization, such as employee numbers, hire dates, club membership, or anything else that helps to define different groups of contacts.
Save changes to the file.
Importing and Mapping Your Contact Data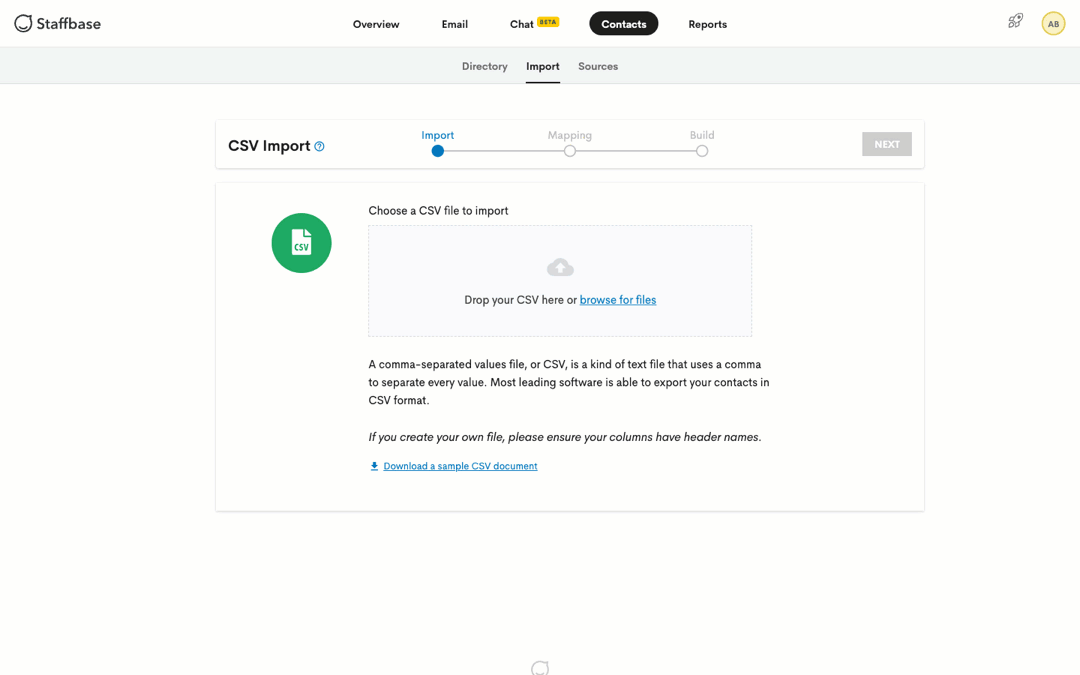 Note on product naming: Bananatag became Staffbase Email in January 2022.
Some key aspects of Staffbase Email temporarily retain the Bananatag name, such as app.bananatag.com, Bananatag Fields, etc.
For all intents and purposes, Bananatag and Staffbase Email are synonymous.
Under

Choose a CSV file to import

, drag and drop the modified CSV file from your computer.

Click

Next

.




The

Map fields

tab opens, and all the values from the header row of your CSV file are auto-populated under the

Imported Field

section.

Using the Bananatag Field dropdowns corresponding to each header row value from your CSV file, select or create fields to map your chosen attributes in Staffbase Email.


You have the option to skip any of your imported fields except the

Unique Contact ID

.




Tip: Some fields are mapped automatically but can be adjusted based on your preference.

If there is no existing option in the dropdown that matches your imported attribute(s),

create a new Text, Number, or Date field

.

Click

Next

.
Completing and Confirming Your Import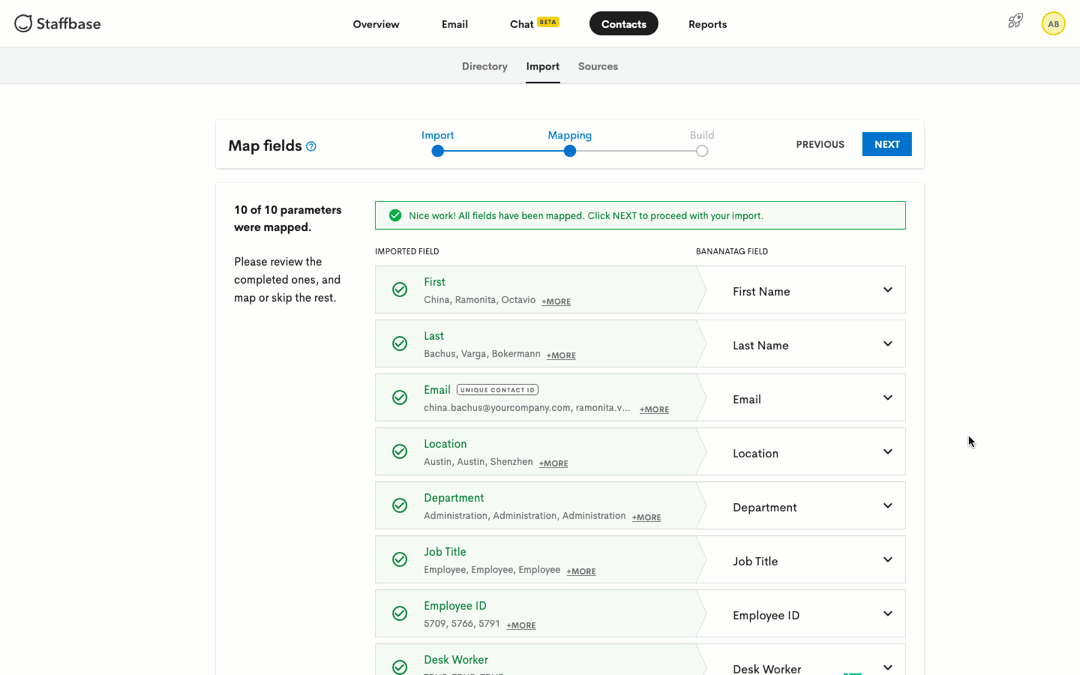 Check the

Static list name

and

Field mapping

sections to confirm or adjust the details of the new static distribution list that will be created from your CSV file.

Click

Next

to complete the process.


A new page displays, showing a progress bar for your import.


Tip: You are free to navigate around the Staffbase Email web app while you wait. This will not disrupt the import.

Navigate to

Contacts

>

Directory

to view your imported data.




The

All Contacts

page opens.

Select the

Distribution Lists

tab to view the static distribution list created from your completed CSV import.

Navigate to Sources

>

Uploads

to check for and

fix any potential errors with your import

.