Summary
With the merger of Staffbase and Bananatag, customers who use both products will have be able to reuse their existing Staffbase article content in their Bananatag drafts via the Staffbase Quickblock!
With the Staffbase Quickblock, you'll have the ability to seemlesly pull existing articles from your organization's Staffbase channels to create content in the Bananatag Email Designer. This quickblock will also quickly generate image, text, and hyperlink elements that your recipients will use to engage with your Staffbase content from your emails. 
In this article, you will find:
How to add Staffbase content to your email designs
Once you've finished connecting your Staffbase and Bananatag accounts (link to HC section), you'll be able to start using the Staffbase Quickblock right away!
Simply load up a new draft or template in Email Designer on app.bananatag.com and pull the quickblock into your draft using our drag and drop editor.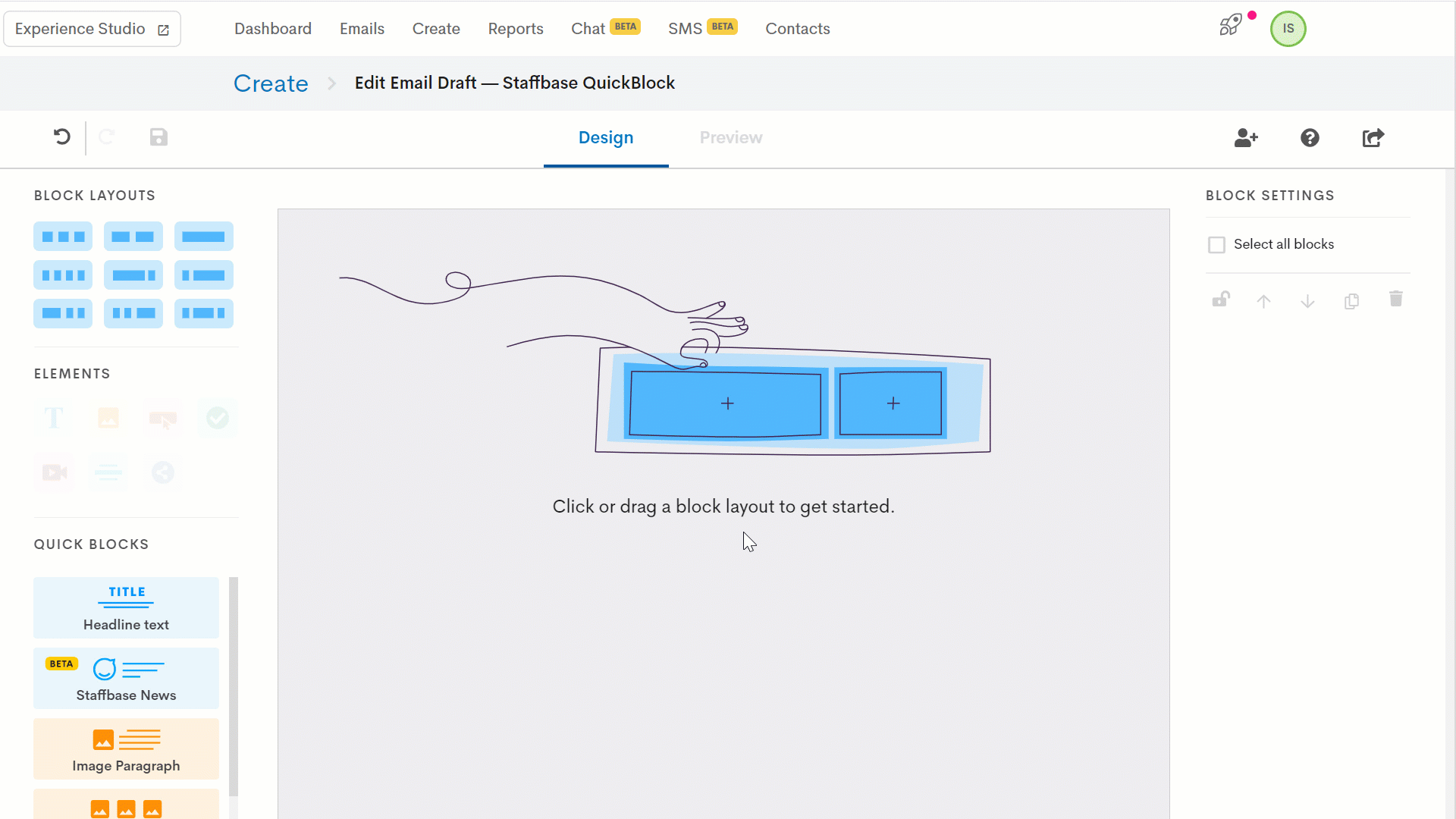 Once added, you'll see your Staffbase articles appear on the right side of the Email Designer.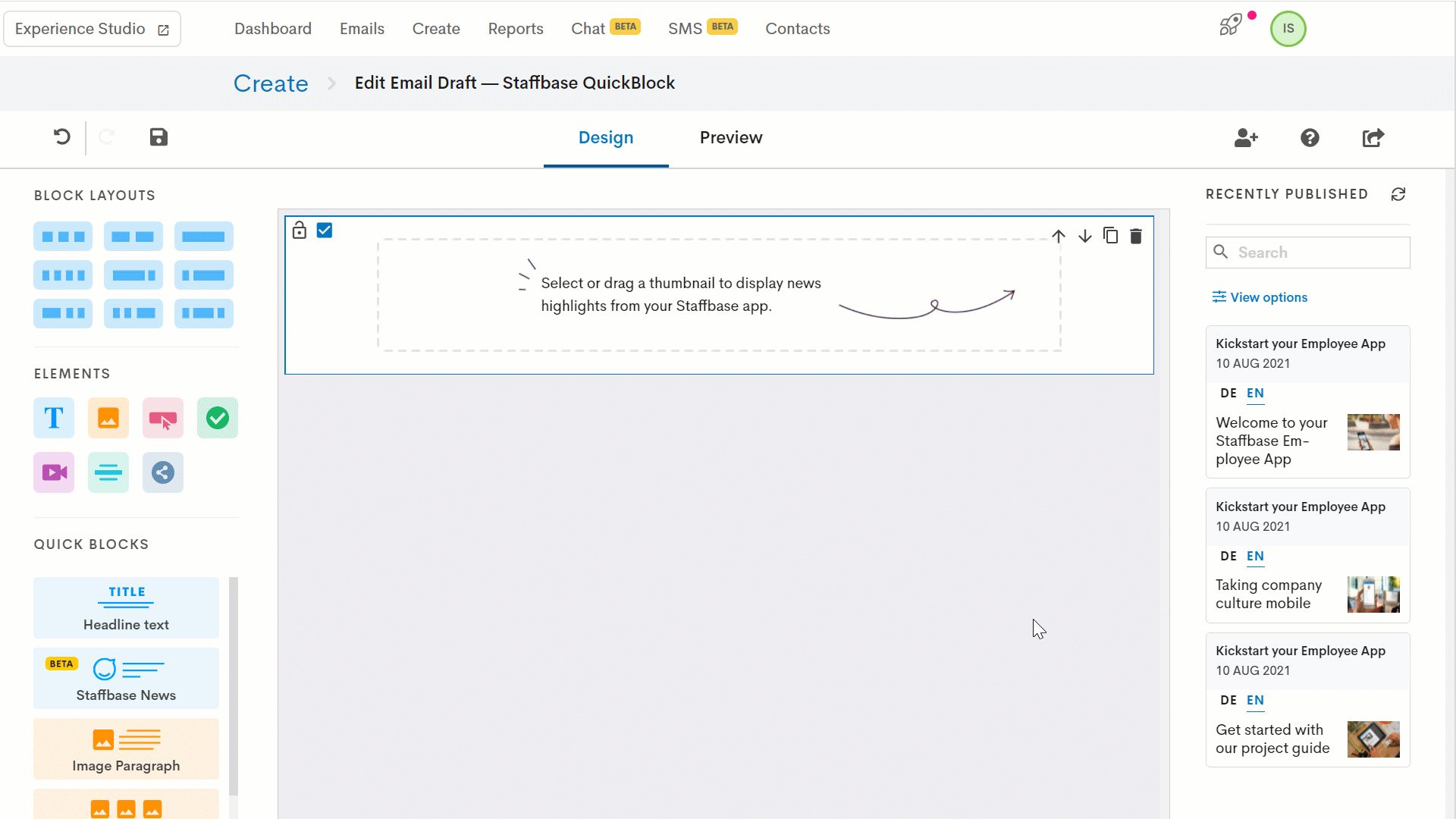 You can then add these articles to your draft by either dragging the article onto your design or by clicking on the article to add it to the most recent empty Staffbase Quickblock space.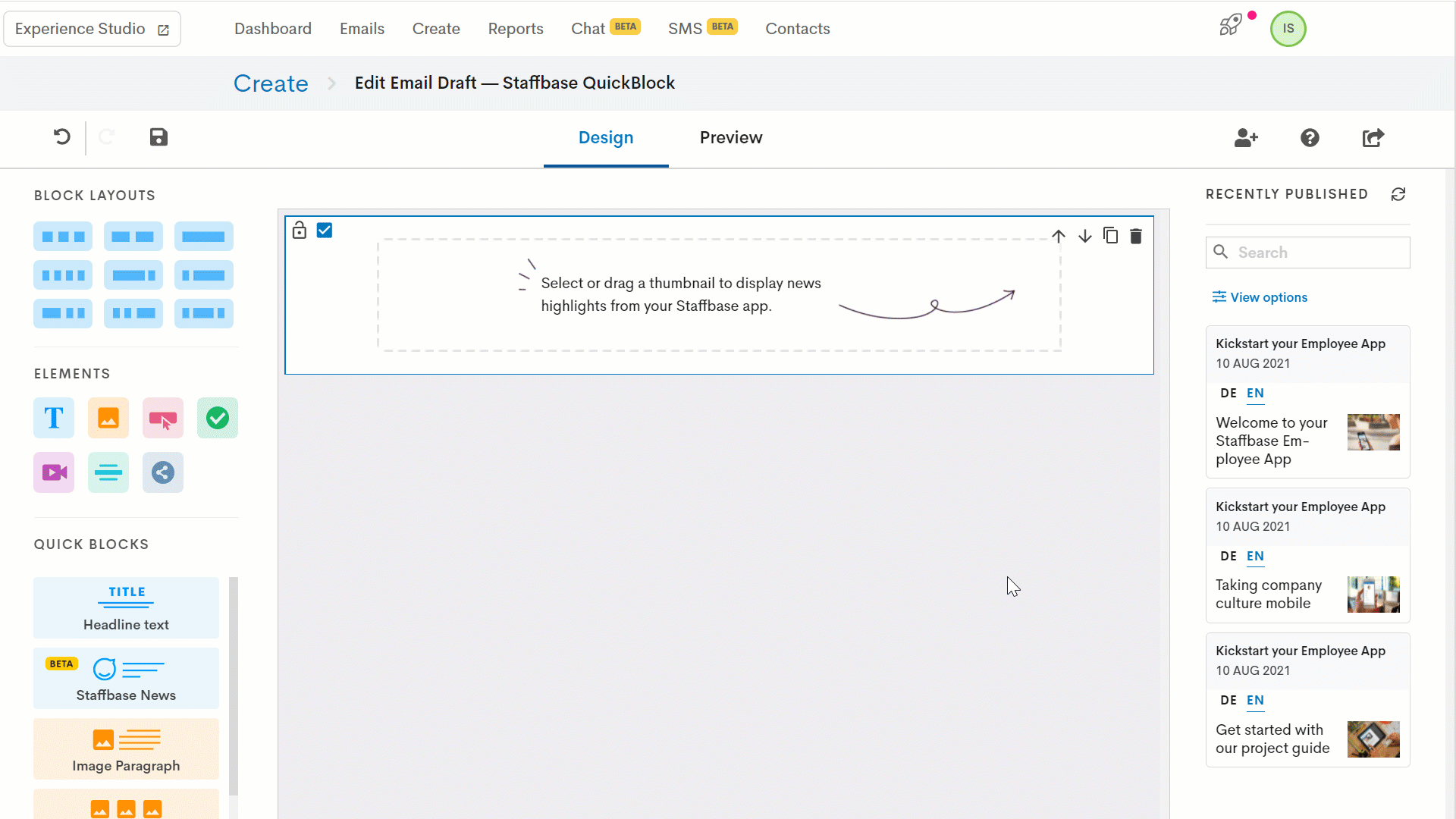 You can learn more about which Channel the Staffbase Quickblock is from by hovering over the article on the right side of screen.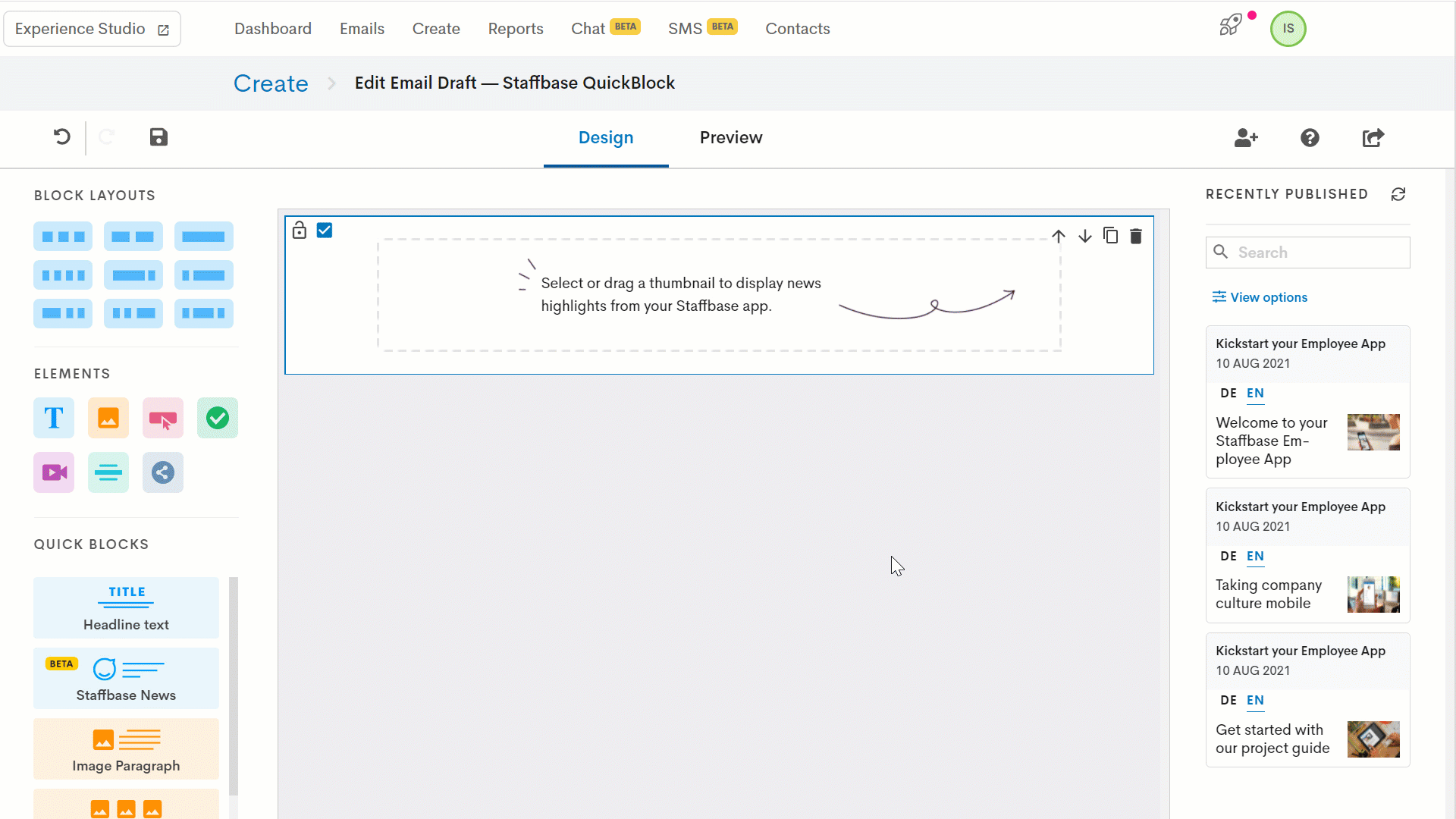 Once added, the article's title, primary image, teaser text, and Staffbase link will be copied into your draft. Just like other Email Designer elements, you can edit this content as needed.
The article's link will guide the employee to your organization's Staffbase app by default, however this can be adjusted as needed.
Any branding settings that you've configured on the Bananatag side will be applied to your Staffbase article content once it's been added to your design.
If your organization has used Staffbase's On-Demand Translation in your articles, you will also have the ability to select a language when pulling in content. This can be done by clicking on the language abbreviation before adding your article to the email design.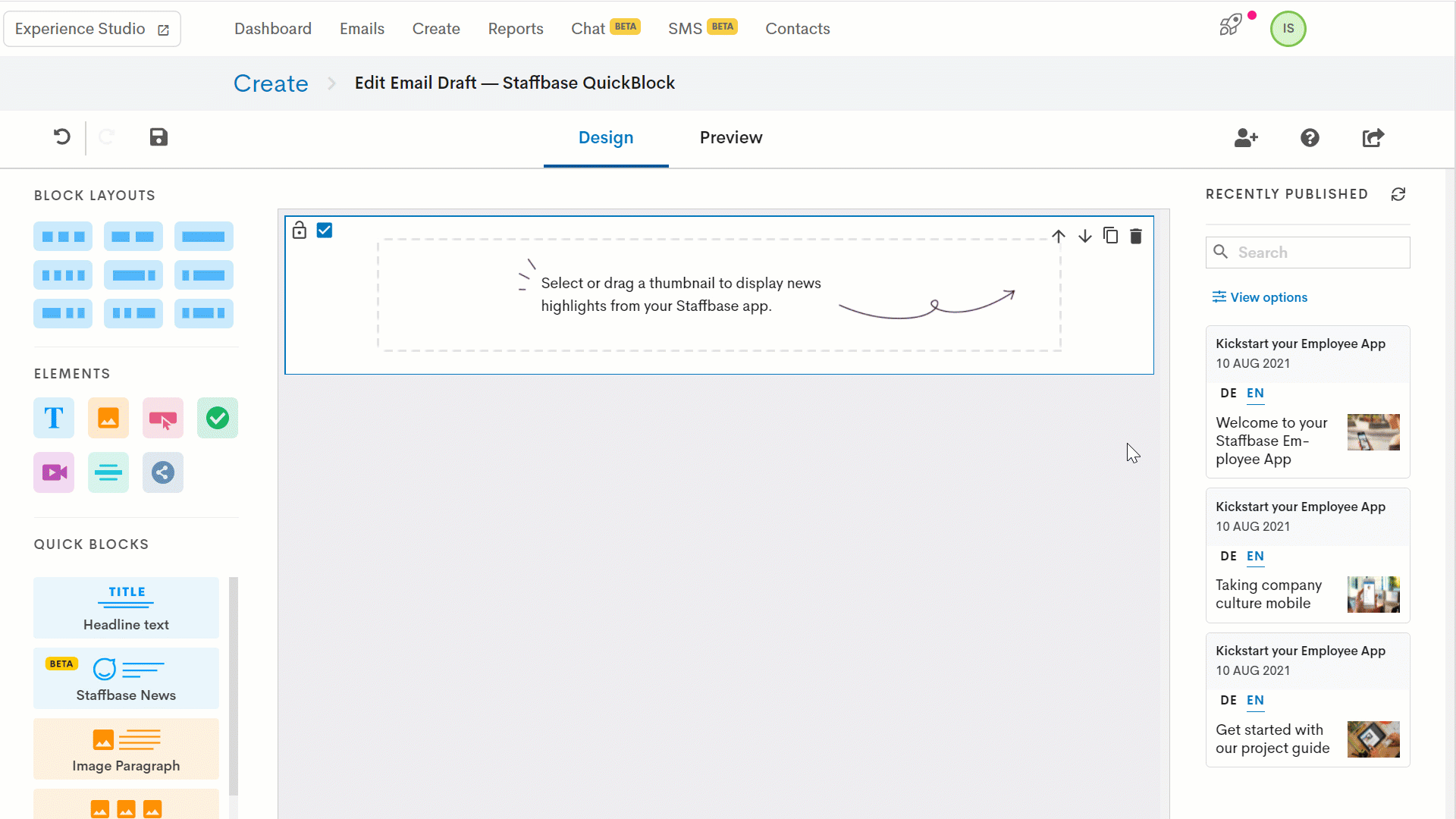 Please note that your articles may only be targeted to certain groups in your Staffbase app. To ensure the best recipient experience, always double check to ensure that the recipients of your Bananatag email will have access to any linked Staffbase articles. Otherwise, users may not be able to access an article when the click the link in the sent email.
What content is pulled from Staffbase?
At the moment, only article posts that have been published on your organization's Staffbase app can be added to your Bananatag drafts. You can click here to learn more about the different types of posts that 
Click here to learn more about different types of posts that you can create in Staffbase
If you have recently edited or published an article in your Staffbase app but are not seeing it in the Email Designer, click on the refresh button to pull in the most recent articles.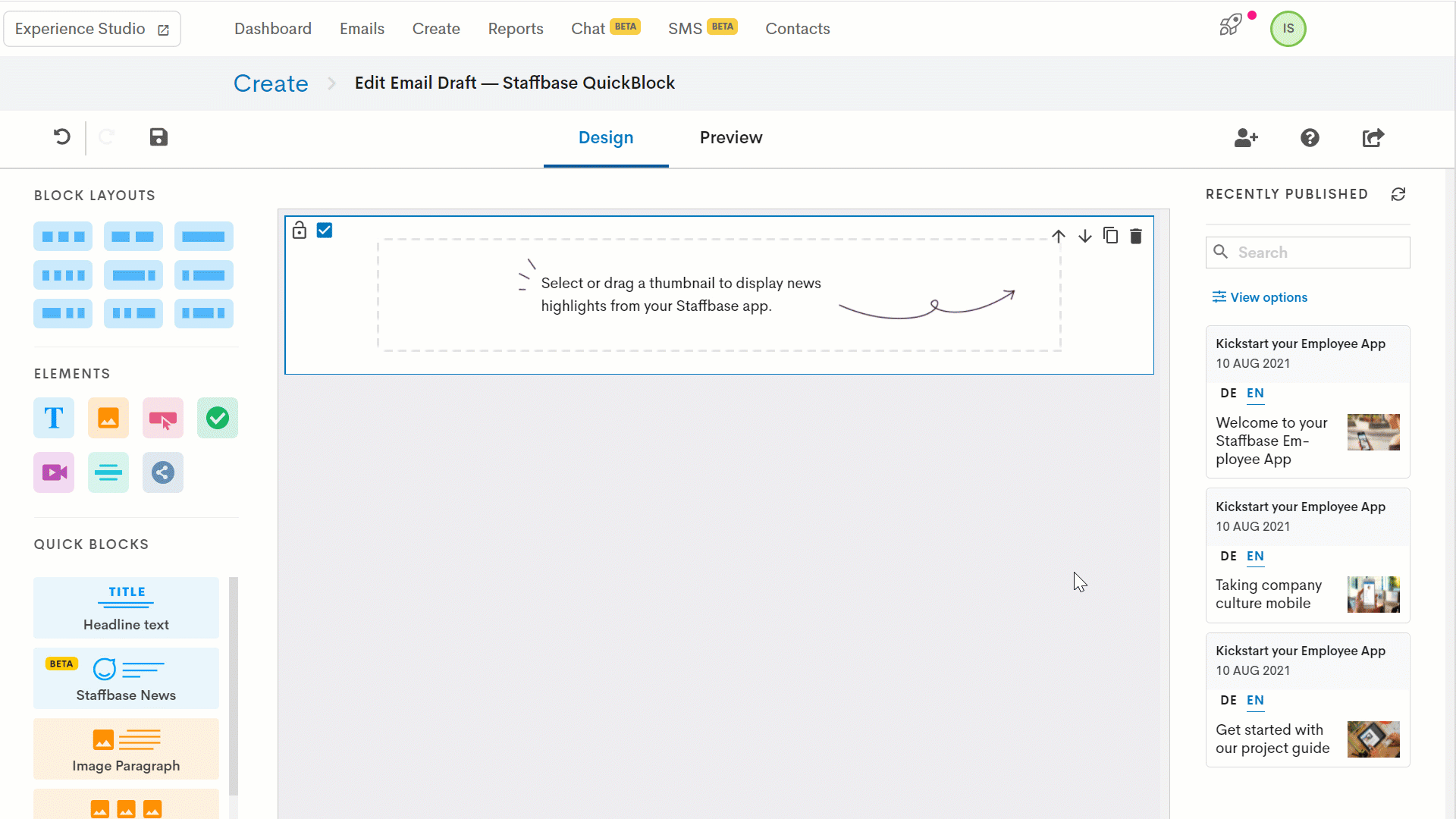 Please keep in mind that Staffbase articles can be deleted, unpublished or changed by their editors. The refresh button is a great way to ensur that you are pulling the most recent content into your draft!
If your organization hasn't created any article posts in your Staffbase app, you'll be presented with a link to open the Staffbase Experience studio to create a post.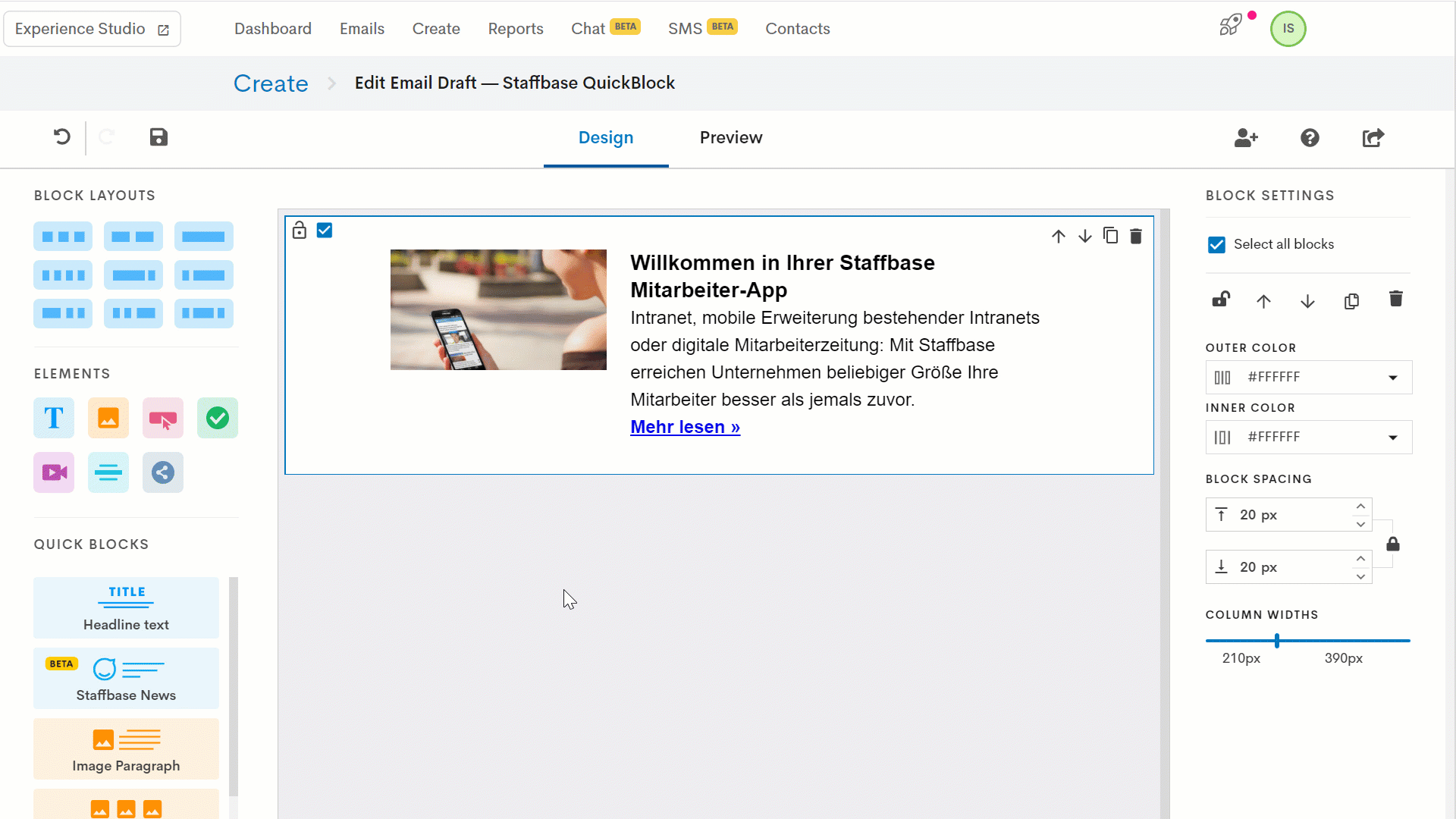 Who can use this?
Any Bananatag user who is a Parent Admin or Admin will be able to access the Staffbase Quickblock in the Email Designer. They will also be able to pull in content from their organization's Staffbase App into their drafts.
Please note that this feature is only available for users sending with Bananatag's Web App Sending feature. The Staffbase Quickblock is not available to any users sending with Bananatag's email client add-ins.