At Staffbase, our customers have always been a great source of inspiration, helping bring real needs into the platform. With the idea management tool Aha! Ideas, Staffbase gives you as a customer a place to share your ideas with the Product team and have a transparent method to follow the status of ideas afterward. Your valued feedback is directly integrated into our strategy. You can also share and vote on ideas surrounding product development publically for assessment and potential implementation.
In the idea portal you can see, comment, and vote on all existing ideas, submit new ideas, check on the status of ideas, and receive updates on their progress.
In This Article
Getting Started with the Idea Portal
The idea portal is only accessible through your profile menu in the Studio. 
Accessing the Idea Portal
The first time you log in, you have to agree to use Aha!, as it is a third-party tool.   
In the Studio, navigate to your profile menu.
Click Idea Portal.


Click Continue and agree to start using the idea portal.
The idea portal will be displayed inside the Studio.
You have logged in to the idea portal for the first time, and are ready to start reviewing and submitting ideas. You can access the idea portal through your profile menu at any time.
Searching for an Idea
Before submitting a new idea, check if an already existing idea matches your desires first. Upvoting or commenting on an existing idea allows the Product team to see which customer ideas are most important and get to your requests faster.
In the Studio, navigate to the Idea Portal.

Click Search Ideas in the upper right-hand corner.
Enter search terms that relate to your idea.

Optionally, use the filters to refine your search further.
Click on an idea for more information and to see other related ideas.

You have searched for an idea. If you did not find an idea related to yours, try again with a different combination of terms, or submit a new idea.
Voting on an Idea
Once you have found an idea that matches your criteria, you can vote to show your interest in the outcome and increase its visibility.
In the Studio, navigate to the Idea Portal.

Find the idea for which you want to vote.

Click Vote.
You have voted on an idea, which displays in the overall vote count. Your vote shows Staffbase that this is an important topic to you. Once you have voted, you will automatically be subscribed to follow the progress of the idea.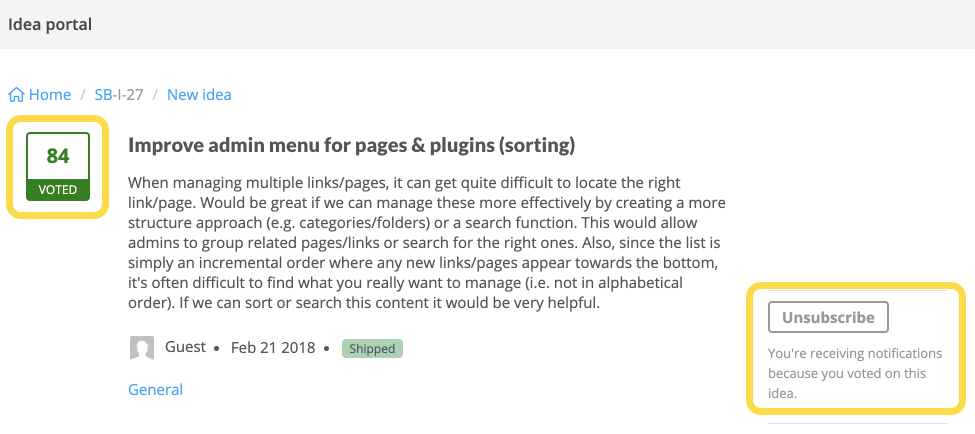 Subscribing to an Idea
If you have found an idea that matches your search, you can also subscribe to follow its progress independently of voting. You will be notified of any changes to the status of the idea via email.
In the Studio, navigate to the Idea Portal.

Find the idea to which you want to subscribe.

Click Subscribe.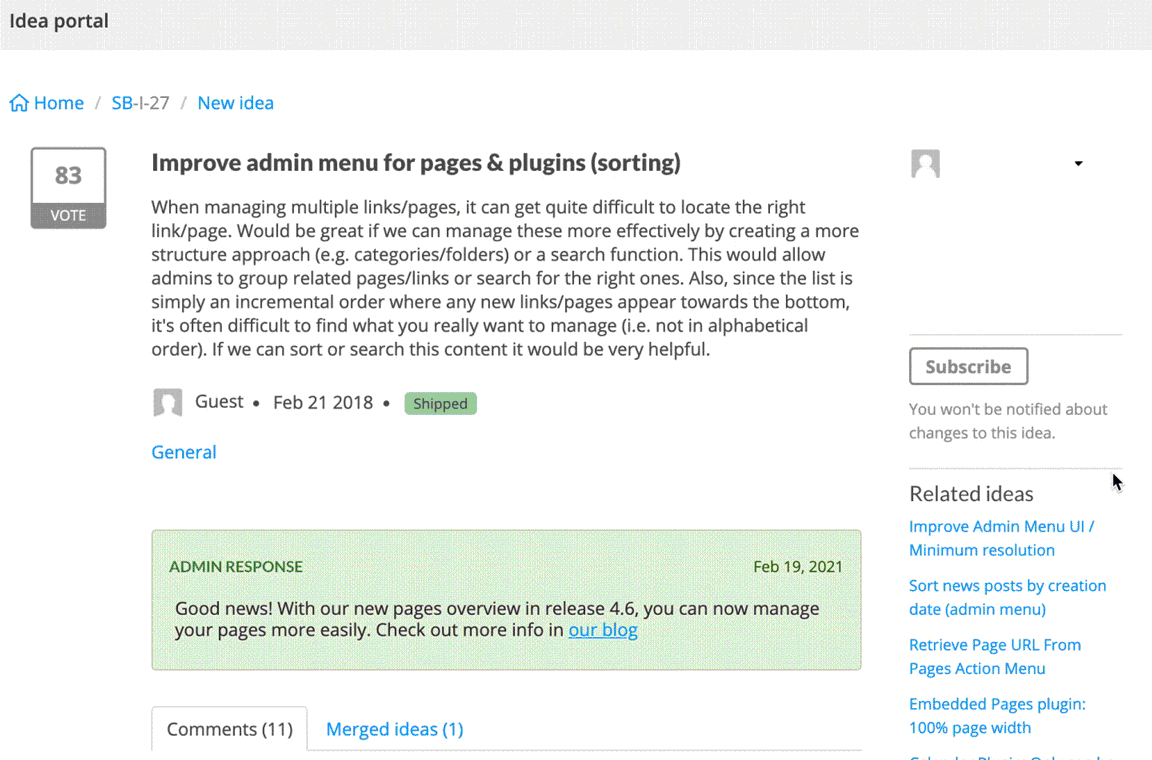 You have subscribed to this idea and will receive notifications when updates or changes occur.


Submitting a New Idea
If you have searched for an idea and did not find an existing one that matches what you would like, you can add a new idea.
Ideas are visible to all idea portal users. Do not include any sensitive information when submitting a new idea, like the name of your organization or platform details. Use appropriate, respectful language.
In the Studio, navigate to the Idea Portal.
Click Add a New Idea.
Enter a title and description.


When writing a description, provide as much information as possible to make it easier to understand and assign an appropriate status. Describe in detail:

What is your idea
Why you want it implemented 
Where the improvement should be 
Who should be able to use your idea 



Click Share Idea.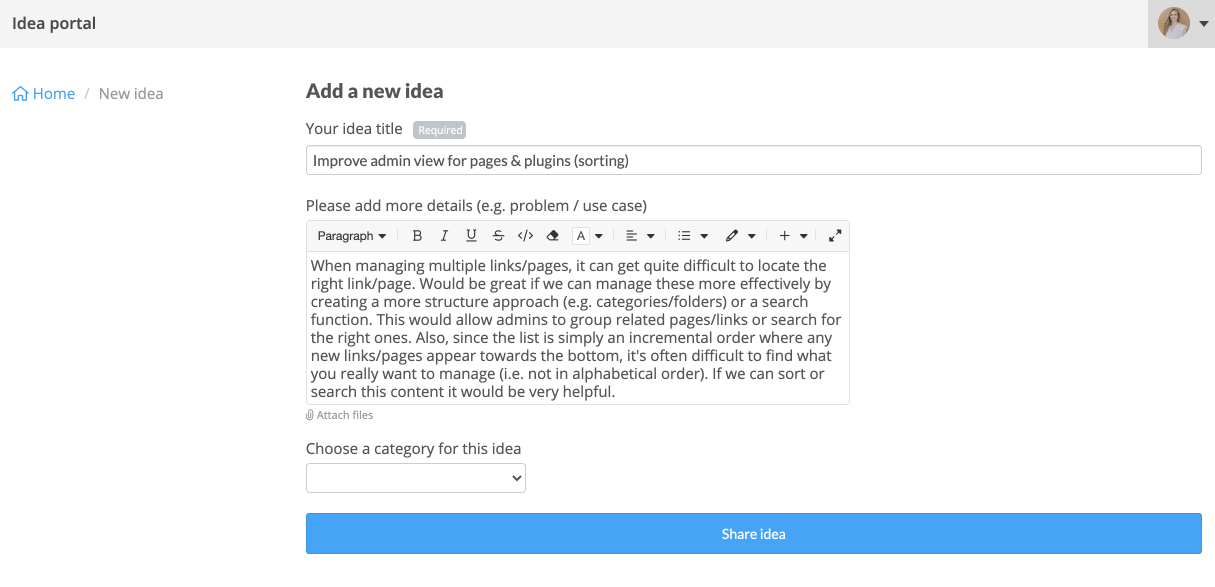 Your idea has been submitted. You will be updated via email when the idea has been reviewed and the status updated. The idea will be visible to other users once Staffbase reviews the idea.


Evaluation of an Idea
Once you submit an idea, it will be reviewed and assigned a status by Staffbase within seven to ten days. This process could take longer if the idea is more detailed or does not contain enough information.
Once Staffbase has finished the review, they will set a new status to your idea. The status will be updated as the idea progresses. If your idea is the same as an already existing idea, the two ideas will be merged. Your original idea will then automatically be assigned the status of the existing idea. 
You will receive updates for ideas that you have submitted, voted on, or subscribed to. If you no longer wish to receive updates, you can unsubscribe at any time. You will also receive updates for any comments on an idea you submitted, which are also publicly visible.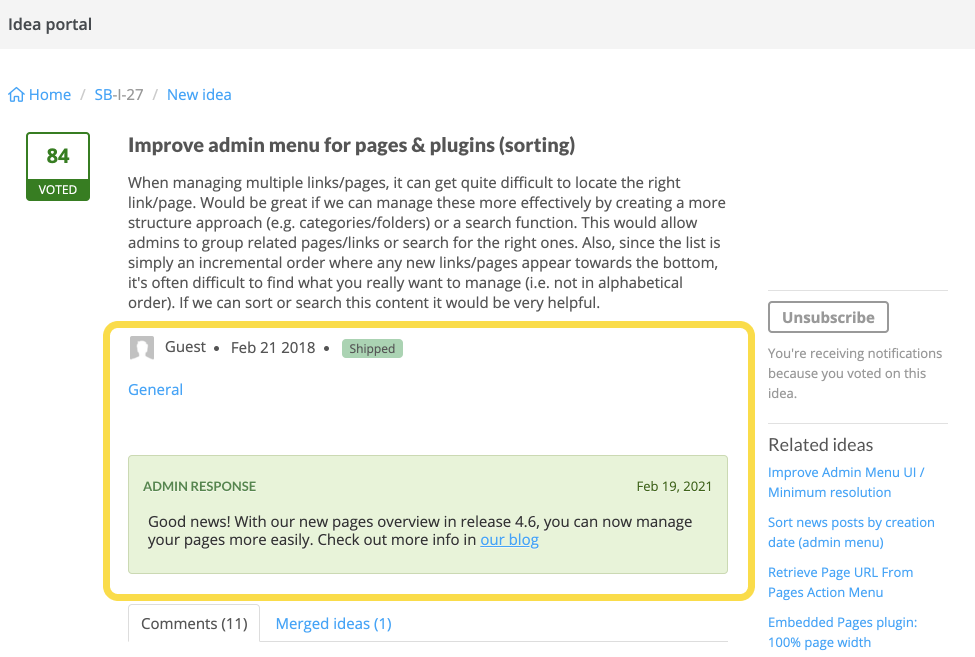 Statuses
Statuses provide clarity and transparency from our side to yours. They allow everyone to see at which stage an idea is currently and when it changes.
Will Not Implement: There are no plans to implement this requested functionality.
Unlikely to Implement: It is doubtful that this request will be developed.
Future Consideration: This idea has the potential to be developed in the future. There is no timeline attached to this status or certainty for implementation.
Planned: This idea is on our roadmap, but there is no exact timeline available yet.
Shipped: This idea has been implemented and is available. You can find information on which release version it was shipped in the comments.


FAQ
What should I include in my idea?
To ensure that Staffbase understands your idea correctly, write one idea in one submission. Clear, detailed ideas are best and help us to quickly sort your idea. In one idea, make sure to include: 
What is the idea
Why you would like it
Where the improvement should be
Who should be able to use it
Can I share my idea inside the idea portal?
There is no function to share a specific idea. However, you can send the idea number, which looks like SBI-###. This way, others can search and subscribe to the idea themselves.
My idea hasn't been updated in over seven days. What's going on?
Certain ideas take longer to process than others. This is especially the case where there is not enough detail or information for our team to understand the meaning. In these situations, we have to take the time to understand the idea thoroughly before updating it. When ideas are complex or are made up of more than one idea, we might have to split them into separate ideas to sort. All ideas will be sorted and assigned a status as soon as possible.
The status of my idea hasn't changed in a while. What's happening?
Ideas are prioritized based on a variety of factors, including popularity, urgency, and value. Staffbase appreciates all ideas and encourages you to submit them to help us improve the product for you. However, there is no guaranteed timeline or that we will be able to implement your idea.
Who can see my idea?
When an idea is first submitted, only you and Staffbase can see it. Once it has been reviewed and assigned a status, it will be set as visible. Then all idea portal users can vote on and subscribe to the idea. In very few cases, Staffbase decides to keep ideas private. In this situation, we will notify the submitter as to the reason why this is so.
Additional Helpful Information