The Chat is a great tool for direct one-on-one or group messaging within the app. The Chat fosters both casual communication between coworkers and provides a simple solution for attaining detailed information quickly and directly. Learn more about the functionalities available in Chat.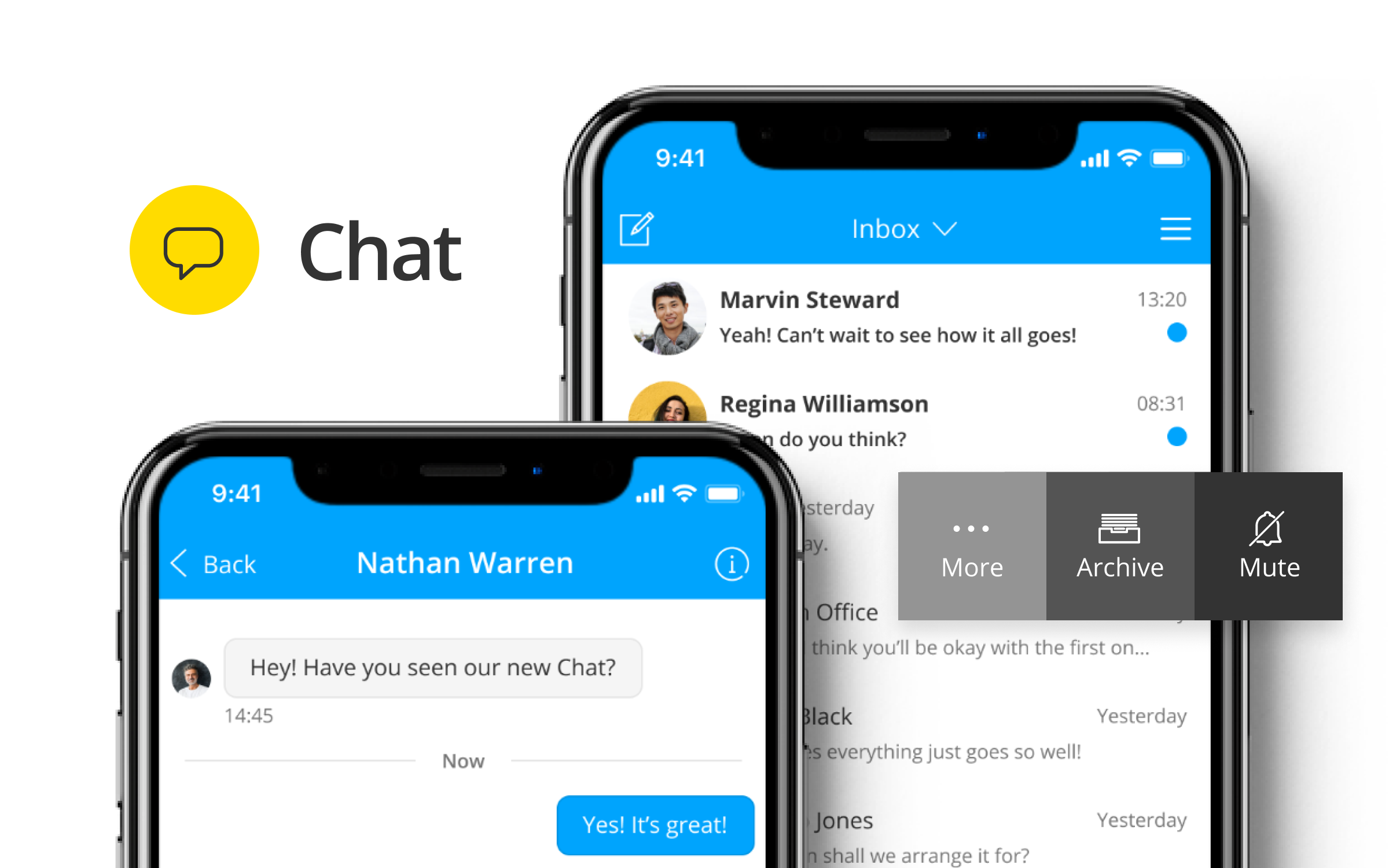 What kinds of conversations are possible in chat?
One-on-one chat conversation

This is a private conversation between you and one other user.

Group chat conversation

Group chat conversations can include 2+ individual users, user groups, or a combination of individual users and user groups.
How can I search for users when starting a new chat conversation?
You can search for a user by first or last name. Depending on the settings of your organization, you may also be able to search for users by department, position, location, and other details.
What is the maximum number of participants in a group chat conversation?
A chat conversation can contain a maximum of 128 individual participants. A user group is counted as a single participant.
What kinds of files can I send in chat?
On the mobile app:
| Images up to 25 MB | Videos up to 4 GB |
| --- | --- |
| | |
On the web app:
Images up to 25 MB

Videos up to 4 GB

Audio up to 2 GB

Documents up to 2 GB

doc/docx

ppt/pptx

pdf

xls
csv
txt
ics
All videos uploaded to chat are converted to mp4 format and downscaled to 720p.
Can I delete a chat conversation?
Only group conversations can be deleted, but only by the conversation administrator. One-on-one conversations cannot be deleted, but they can be archived or muted.
If I delete a group conversation, is it deleted for all participants?
Yes, if you delete a group conversation, the conversation will be permanently deleted for all participants.
Do new members see the previous chat history of a group chat conversation?
Yes, new members see the complete chat history, including all messages exchanged in the conversation before they joined the group.